MLK Day assembly uplifts Black entrepreneurs
On Tuesday, the Upper School gathered in the Huss Auditorium for the MLK Day assembly, planned by the Intercultural Club. Three Black entrepreneurs, Mercedes Yarbrough, Destiny Roberts, and Ebony Yarbrough, were invited to talk about their life, successes, and passions. Each guest promoted positive messages about chasing after their dreams and reflected on how they got to where they are today.
As a behavior specialist, Mercedes Yarbrough interacts with students that often struggle the most at school. "I take pride in my job, and I'm going to make [learning] fun for these kids. And I love art — being creative, goofy, and fun," Mercedes Yarbrough said.
As a part of her work with younger students and working to educate them on black history, Mercedes Yarbrough created Black to the Future, a comic book that presents both past and present Black entrepreneurs and inventors as well as black-owned businesses in Minnesota.
Senior Leona Barocas enjoyed the overall focus on black power and voices during the assembly and the way that Black to the Future brings attention to joy and success in black history.
"
I think a big focus of Black to the Future was rewriting the narrative and saying, like, it's not just slavery and the civil rights movement, look at all these other things that have brought people of color to where they are now.
— Leona Barocas
"I think a big focus of Black to the Future was rewriting the narrative and saying, like, it's not just slavery and the civil rights movement, look at all these other things that have brought people of color to where they are now. And I felt like we didn't get to learn that material. We were just told that it existed," Barocas said.
After Mercedes Yarbrough shared her book and passion for teaching, Roberts discussed what led her to become an artist and musician, tracing back to her high school athletic career.
Roberts was a driven basketball player and had been recruited by many colleges beginning in eighth and ninth grade. Unfortunately, Roberts tore her ACL during her high school career. However, she took this as an opportunity to try something new and after going to a cable access center, she discovered her passion for video and photography and began to experiment with her creativity.
After recovering from her ACL injury, Roberts had to make a life-changing decision. "Am I going to play basketball, or am I going to stick to photography? Surprisingly, I decided to stick with video photography," she said.
Ebony Yarbrough then introduced herself using a childhood story about finding her confidence in her sense of fashion. Ebony Yarbrough had a shy personality as a child. After discovering her unique talent and fashion interest, she gained confidence in school. Her creativity inspired her peers, and that's when she started making clothes for people.
"I expected that I would open this business and everybody will want to come and take a [look]. But that wasn't the outcome. I got so discouraged. I gave up. Then one day, I was just sitting there and thinking, 'I can't believe I gave up. But now I'm going to try again.' I learned to put my personal meanings into play. I had to tell myself, 'You get what you get and what you put into it," Ebony Yarbrough said.
Each speaker's adventurous entrepreneurial story emphasized the idea of never giving up. This message resonated with many students and caused them to reflect on their own dreams and notions of success.
"I think success can come in many different ways and be defined differently. A lot of the time, it's about finding your own passion. It's not necessarily becoming a big STEM entrepreneur in Silicon Valley or becoming like Taylor Swift as a singer. But if you're able to get your message, and you share your values with other people, I count that as successful," sophomore Deling Chen said.
This year, the Intercultural Club leaders aimed to celebrate black successes during the annual assembly. The group aims to uplift local voices and bring engaging speakers into future events.
"Intercultural Club is trying to bring in speakers that are more youth-oriented and have a strong emphasis on working with younger generations and changing the future. We wanted to find something both educational and entertaining that everyone would enjoy," IC Co-President Clea Gaïtas Sur said.
While the Q&A section was cut short due to time constraints, the assembly was lively and engaging, including a live performance from Roberts and a "Pringles challenge" using chips named after famous black figures. This assembly marked a new way of celebrating Martin Luther King Jr. and his legacy.
Leave a Comment
About the Contributor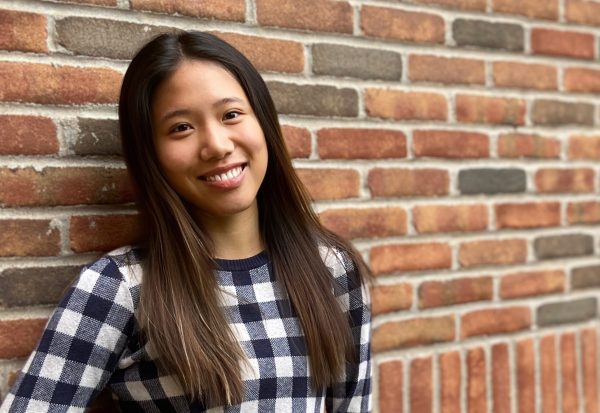 Rita Li, Creative Design Manager
My name is Rita Li (she/her). I work as Creative Design Manager for The Rubicon online. At school, I'm involved in tennis, ping pong club, and ASA. I...