Minneapolis Farmers Market is full of life, history, and produce
Vibrantly colored fruits and vegetables, beautifully scented flower arrangements, freshly baked pastries, and delicious warm coffees are all easy to find at the Minneapolis Farmers Market which has been bringing the community together since 1876.
When walking into the market, the abundance of fresh produce immediately catches one's eye. Numerous booths have tables covered in bushels of fresh fruits and vegetables. Currently, tomatoes, peppers, cucumbers, cauliflower, and broccoli make up the bulk of the vegetables as winter approaches. Less fruit is available for purchase as many varieties are out of season; however, there are delicious canned jellies and jams, including strawberry, mixed berry, and even raspberry-jalapeño.
Many of the people working at the farmer's market have been stationed there for many years."I moved to Minnesota from Singapore, and I've had this spot at the Minneapolis Farmers Market for almost 10 years," said Phua Thao, owner of Thao Gardens. Thao's spot, stalls 321 and 333, are at the center of all the vegetables for sale, but his assortment is by far the most colorful.
Despite the impressive rainbow array of produce, the variety in Thao's harvest is actually smaller than in other growing seasons. "Right now, what I am growing is quite different from what I grow during the spring and summer. I grow a lot more in the spring, nearly 22 different varieties of fruits and vegetables," said Thao.
Just a few stalls down from Thao, visitors can find Bill Brooks who also offers a wide variety of vegetables, including fresh brussel sprouts. Brooks works the booth with his mother, who has been coming to the market for over half a century. "My mom has been coming to the Minneapolis Farmers Market for more than 50 years. I have the stand right next to her, and I've been coming here since I was five," said Brooks. The market has been a special place in their hearts as it brings them together.
"
My mom has been coming to the Minneapolis Farmers Market for more than 50 years. I have the stand right next to her, and I've been coming here since I was five.
— Bill Brooks
Across from Brooks's stand, K and B Gardens, owned by Karen and Barry Brooks, sells lots of fresh fruit and vegetables, as well as fresh jam. "The canned goods we sell are great. We have pickles and many different kinds of jams" said Karen. Additionally this time of year is one of Karen's favorites, "the weather in the fall is so perfect for the farmers market," said Karen.
The farmer's market does not just offer fresh produce. There are many vendors who sell countless other products, ranging from handmade spoons and soaps to an espresso bar. Hot foods, like crepes and breakfast sandwiches, are also readily available for purchase and perfect for early morning trips to the market.
Fall marks the perfect time to visit the farmer's market: the weather is beautiful, the produce is delicious, and a sense of both community and history are felt strongly. The market, open from 6-1 p.m. daily, is winding down as winter approaches. In addition to fun fall activities like pumpkin carving and going to the apple orchard, make sure to plan a visit to the market before their last day of business on Oct. 31.
Leave a Comment
About the Contributor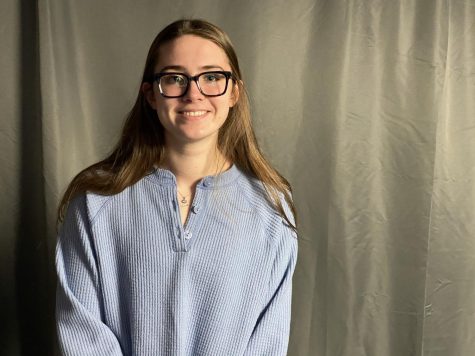 Alexandra Cardwell, Opinions Editor
Hi! I am Alexandra Cardwell. I am a co-Editor of the Opinions section for the 2022-2023 school year. This is my fourth year on staff, and in the past I...