[MIND OVER MATTER] Ep. 3: Out of school habits
[music]
Morse
Hey, and welcome to mind over matter, a three-part series that focuses on topics relating to mental health and wellbeing with guest speakers from the SPA's faculty and students. I'm Marius Morse, and today we'll be discussing the effects of out-of-school habits with one of the upper school counselors. Miss Barbee, and a freshman, Sawyer Bollinger Danielson.
Ms. Barbee
So, we all have different indicator lights that go off on our dashboard, right? And so it's going to look different for every single person but knowing like whether it's, Oh, I haven't been sleeping that well or like, my eating habits have changed, or I feel myself isolating from my friends. Or my mind goes blank every time I like, try to speak in a Harkness, right? Do a test like I'm just like, I got nothing. So knowing for you as an individual, like what are the signs that you need to get support?
Morse
That was Miss Barbee, a licensed therapist and one of two upper school counselors at SPA. Although you might not realize it, you've probably experienced one of the things she mentioned. Even though it can sometimes feel nerve-racking from being detached from the normal world for these past couple of years, there are many things you can do to get back out.
Ms. Barbee
Socializing. I talked to a lot of students who, through this pandemic have the social skills, it's kind of like atrophied, you know, and we forget like how to reach out to friends. How to, like, plan things in advance or just call somebody up spontaneously. Like it all feels kind of high stakes.
Morse
If socializing with your friends or classmates feels like too much, that's okay. Because if you're able to, you can socialize with the people that you live with.
Ms. Barbee
Your family, who you live with, your caregivers, like making sure you're connected with them and you know, just having that balanced life because we'll talk about that and wellness but like all these things like physical, social, emotional mental, vocational, which is like your hobbies, spiritual, that could be nature that could be you know, whatever you find meaning in music, church, synagogue, Temple, whatever it is, that, that you find ways to address all those areas in your life. You think for a balanced life.
Morse
As Miss Barbee just listed, there are important components to a balanced life. For Sawyer Bollinger Danielson, it means a few things.
Sawyer BDAN
Um, I guess make time for yourself. Like focus on what you need and like school's a big part of it, but don't stress too much about it even though it's like it's easier said than done but I guess it put yourself first.
Morse
Along with focusing on yourself first, Sawyer thinks sports play a large part in a healthy lifestyle. Whether they're going well for you or not.
Sawyer BDAN
I enjoy I guess just like exercising, I think they're really distracting me from what I'm, like all my homework that I have, like the stress of tests and school, and I just get my mind off. It's like an hour, two hours. And then would you say that when you're done doing that you feel less stressed or just while you're doing that? It kind of depends. Sometimes I feel more stressed afterward because maybe I didn't have a good practice, or I didn't enjoy my workout. If it's like a good day and good practice. I feel much better, so less stressed afterward. It can be both.
Morse
But obviously, many habits people have are not good for your mental health. One major one is phone use. More specifically, social media and teens.
Ms. Barbee
When it tips over to being unhealthy for you. Um, we do know a lot of studies about social media's impact on mental health. And generally, it's all negative, but I think it's truly about what are you doing with the other hours of your time? Because you could be on your phone doing homework, for example. But if you're just spending it being mindless, right when we are like, Oh my gosh, I have to pick up my phone and text my parents something and then you're like, half an hour later, like, "what was I supposed to do?" and you haven't texted your parents because you've just been scrolling through everything and responding to notifications. That's something to pay attention to because phones are really built to distract us. Right? And so we have all these notifications. Like I know a lot of people to counter that will change the colors on their phone to like, what is it like grayscale you can do and then it makes it less enticing. And just because we never… like when you're scrolling through things. If it's in black and white, you tend to lose interest pretty quickly. So there are tricks to sort of hack the mind control power of your phone so that it works for you instead of it telling you what it wants you to do, which I think is a lot of how most of us interact with our devices is like I have to respond to this notification then I have to like then check this app and I'm on a streak with this app. So I have to talk to that one right. So I think that's when the negative effects on your mental health we see.
[music]
Morse
So, if you're looking for some healthy ways to spend your time, go outside, call a friend or try something new. Once more, I spoke with school counselor Miss Barbee and freshmen, Sawyer Bollinger Danielson about some of their strategies for healthy out-of-school habits. Again, I'm Marius Morse. Thank you for listening to this episode of Mind Over Matter. Make sure to check out the other episodes involving managing stress and anxiety with Annie Zhang and risk-taking with Johanna Pierach.
Music source:
Bensound-relaxing
https://www.bensound.com/royalty-free-music/track/relaxing
Leave a Comment
About the Writer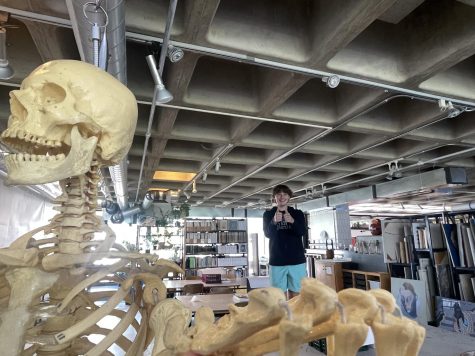 Marius Elias Morse, Photojournalist
Hey! My name is Marius Elias Morse (he/him). This is my second year on staff. Currently, I am the photojournalist for RubicOnline, and last year I worked...