Then and Now: McVeety reflects on decades of coaching
"It was Senior Night 2003. There was only one senior on the team, Adam Schanfield, who loved the game and played through more than his share of ankle sprains.  There were only twelve seconds left in the game and we were down, but Adam hit three three-point shots in the final seconds to win. Unbelievable, but true."
As a varsity assistant coach for boys basketball at St. Paul Academy and Summit School, Jim McVeety shares many memorable moments from his 20 years of coaching. While he has spent countless hours in the Briggs Gymnasium where the basketball team practices and competes, McVeety has also taught mathematics in the Upper School since 1983.
After spending long days in the classroom, McVeety moves from the classroom to the gym.  "I have been fortunate to associate with some truly great coaches who give their time to help young men test their mettle and learn what it means to be a teammate," McVeety said.  He added that he enjoys coaching because "I get to work with some of the finest young men you could ask to teach the greatest game ever invented."
"Section Finals 2014.  Despite some great teams in the past, SPA had not won a section final to go to state.  Our fans were there and our team was totally in the moment after perfect preparation as they dominated our opponent from the tip-off. Led by our magnificent senior captains, Harrisen Egly and Aidan Arnold, the team achieved a berth in the state tourney for the first time."
Why does McVeety continue to coach? Through coaching basketball, he has come in contact with many great people including players, their families, coaches, teammates, and even opponents.  Another reason is that "both my children, [Sam '04 and Dave '10] were lucky to have great coaches and this is a way for me to pay it forward," McVeety said.
From the players' perspective, McVeety gets high marks as a coach.  "I don't know if I'll ever respect someone as much as I respect Coach McVeety.  There's something special about being able to connect with him on the court and in the classroom" junior captain Kent Hanson said.
McVeety has been a part of the SPA basketball program for such a long time that he shares a great deal of wisdom and experience to the players.  "He knows everything there is to know about the history of our school and our basketball program," Hanson said.
Leave a Comment
About the Contributor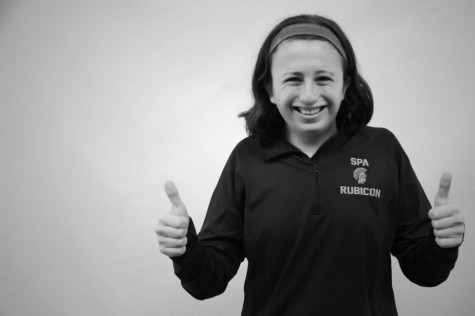 Catherine Braman, Online Editor-in-Chief
Catherine Braman is a Junior at St. Paul Academy and Summit School. Catherine served as Online EIC for first semester 2014 and was a co-Sports Editor...