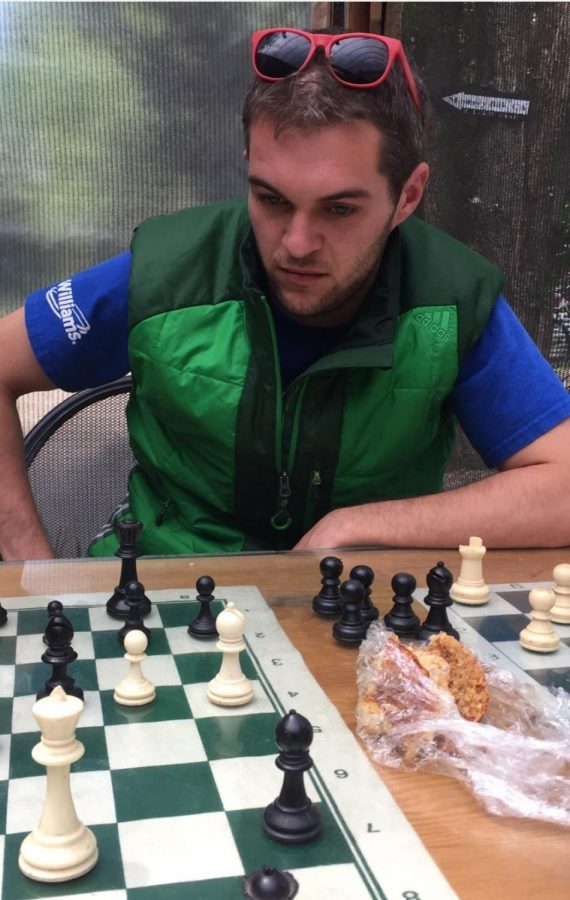 Math teacher Zach Sheffert fills his free time with disc golf games and mind games
While not teaching at St. Paul Academy and Summit School, Upper School math teacher Zach Sheffert enjoys partaking in activities that are both physically and mentally challenging. These activities include disc golf and solving an array of puzzles.
There are many places to play disc golf around the Twin Cities, and one of Sheffert's favorite places to play is just five minutes away from SPA. Sheffert said, "I like the Highland course over here because it's very easy. That one makes me feel good about myself".
Unlike the Highland course, the disc golf courses at Bryant Lake in Eden Prairie and the other Highland course in Bloomington are far more difficult. In general, the people who play at Bryant Lake and the other Highland course are highly skilled. "We were playing [at Bryant Lake] the other day and I talked to a person that said that he had flown in from North Carolina just to play that course. He was there for a weekend and he played it six times on the weekend," said Sheffert.
Sheffert has even participated in a disc golf tournament. "I have entered a tournament, but only because there was really good swag. It was like a $20 entry [fee] and they gave like three discs. So I entered for that, but it was not for any competitive reasons. It was just because I wanted the free swag," said Sheffert.
Along with his participation in disc golf, Sheffert also enjoys partaking in activities that work his mind like puzzles, chess and more casually, video games. He enjoys making math and critical thinking a part of his everyday life while also giving his mind a rest.
"I grew up in Oklahoma… but I don't have an accent," he said. When asked if he enjoyed rodeos, he responded, "No. I'm a pretty terrible Oklahoman." Since Sheffert is a self-proclaimed terrible Oklahoman, hopefully Minnesota is the right fit for him. Sheffert looks forward to a great year of learning and immersing himself in the SPA community.