Making fashion statements for self-expression, comfort
For some getting dressed in the morning is a mindless routine, others take pride in carefully selecting each outfit they put on. Given that St. Paul Academy and Summit School's dress code is relatively relaxed, those that pay close attention to what they wear have a lot of freedom to express themselves.
Because what one wears is visible to the world, fashion is an enjoyable creative outlet for many students. With countless styles, trends, colors, and fabrics to choose from, there is extensive diversity among the clothing of SPA students.
Comfort is a driving force in many SPA students fashion choices. Active wear is popular year round, because of its relaxed nature. Birkenstock sandals are also a popular footwear choice for all genders because of their practicality.
"I would describe my style as casual, but really comfortable," sophomore Justine Miller said.
Freshman Eva Garcia agrees that comfort is a priority in her wardrobe.
"I love wearing big sweaters because they're really easy to just throw on and pretty comfortable," Garcia said. "I always have a bunch of sweaters in the closet which I usually just throw on before school; my outfit for the day really depends on my mood."
"
What other people at school are wearing also rubs off on me"
— sophomore Justine Miller
Some students have a certain style that they stay consistent with in their daily outfits. Developing one's fashion identity can take time, but is a rewarding method of self expression for many.
Some students develop a signature look, or even a particular article of clothing that they are known for.
"I really like wearing my Converse sneakers," Miller said. "I've been wearing them since sixth grade, and I still love them."
Sophomore Jack Sullivan may have a signature look, but he isn't the designer. "My mom pretty much picks out what I wear for the day, so getting dressed isn't a big issue for me," he said.
"I don't actually wear this a lot," sophomore Hannah Stanley said of the peter pan collar she wore. "I just wear this because I like the detailing. It's my mother's, actually, but I do like them because they're very retro."
Many students have a favorite time of year based on the types of clothing that are weather appropriated for that season.
"I like wearing shorts because I feel comfortable in them and wearing them makes me feel like spring is finally here," freshman Ashley Jallen said.
For those who do not have as strong of an inner fashion compass, guidance for how to dress can come from peers, fashion magazines, store catalogues, and social media site such as Pinterest.
"TV shows actually influence my sense of style, and what other people at school are wearing also rubs off on me," Miller said.
About the Contributor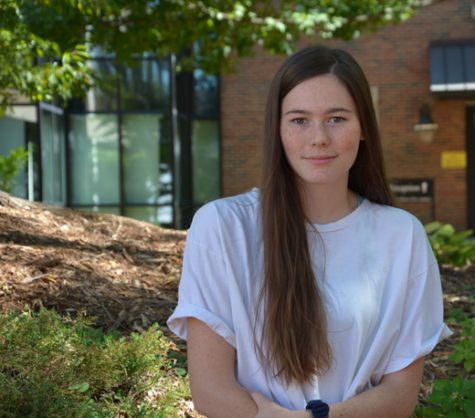 Mari Knudson, Graphics Editor / Aureus Asst. EIC
Mari Knudson is a senior member of the staff, a dedicated student athlete, and the Graphics Editor for The Rubicon this year. She is also Assistant EIC...