Major League Gaming provides both fun and virtual currency for freshman Enzo Vinholi
Among the typical jobs of St. Paul Academy and Summit School students, one stands out: freshman Enzo Vinholi's job as a competitive video game player whose matches are broadcast to the world.
Vinholi is a member of Major League Gaming, or MLG for short, an organization whose goal is to make computer gaming a viable spectator sport. The games, called eSports by the organization, have been featured on sports networks like ESPN and have been broadcast over the internet to a worldwide audience.
Players of MLG earn prizes and privileges, sometimes cash, for playing in and winning matches. Being higher-ranked includes privileges, such as the ability to beta-test impending releases or the ability to play on private servers with higher-ranked players. Very high-ranked players sometimes earn lucrative rewards such as cars or even vacations. However, many members simply earn points that can be redeemed for digital software and games. Participants can also be sponsored by major corporations, who send players new equipment or hardware to better compete.
Vinholi usually plays games such as Valve's Team Fortress 2 and EA's Battlefield 3 for MLG, but one of his main jobs is to loiter around private servers to recruit additional players for his squad in games.
"Strategic ability is more important than technical ability," Vinholi said. "It's easier playing in a team than playing solo." However, solo playing typically earns more prizes, with the best-paid player winning more than $300,000 for his efforts.
Although top players compete professionally for cash, Vinholi says it's just for fun. His prizes consist of points, virtual currency that can be used to purchase digital software or video games. Ultimately, Vinholi's career as a gamer is a side project compared to those of higher-ranked players. "It's more a sport or a hobby than a job," he said. "The points go to stuff I would normally buy with my money, like games."
This story has been edited for the following corrections: Instead of playing CD Projekt RED's The Witcher series and Bethesda's The Elder Scrolls for MLG, Vinholi plays Battlefield 3. Also, the spelling of Vinholi's name has been fixed in the headline. 
Leave a Comment
About the Contributor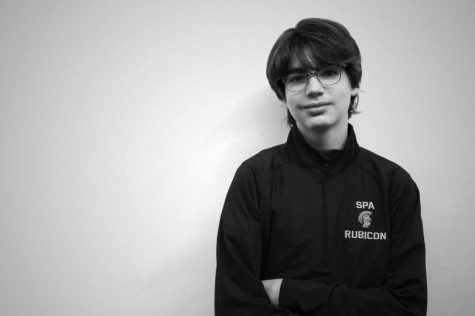 Paul Watkins, Science & Technology Editor
Paul Watkins is a second year staff writer, newly appointed Science and Technology editor on the Rubicon staff. Paul has a passion for classical music,...