Larsen's passion for local politics renewed by MN page program
A week on the floor of the Minnesota House of Representatives as part of the MN High School Page Program provided junior Kaia Larsen with a unique and specialized experience. Once she got there, she was in her element, but getting there wasn't so easy. She wrote an essay about her interest in local politics, got a letter of recommendation from Upper School history teacher Tom Fones, and submitted an application. After she was selected, she, like other selected students, got paired with her local representative.
"My local representative, in the house of representatives is is Carlos Mariani, so I got paired with him. It's a week long program, where you page for the house of representatives" Larsen said.
Larsen's tasks included passing out bills and amendments and other documents and aiding the representatives in any situations that presented themselves. As part of the program, Larsen had the opportunity to meet with several politicians, such as the speaker of the house, Kurt Daudt, and the secretary of state, Steve Simon. Handing out notes from constituents and passing out bills and amendments linked the government and the general public in Larsen's mind.
"It was really cool to see how local government works. As someone who's interested in politics, I'm even more interested, because I got to see how accessible government is to people." Larsen said.
Larsen got to experience protests and excitement from the public from a different perspective. She met with representatives from different areas of Minnesota and learned firsthand about the role lobbyists play in politics.
The page program accepts applications annually and is open to juniors in high school.
About the Contributor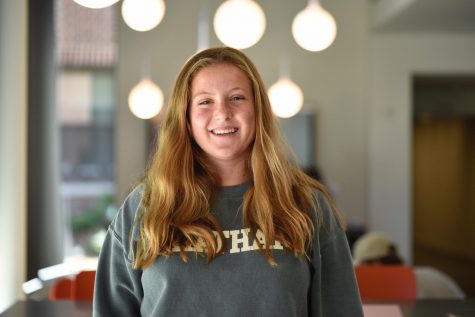 Ellie Nowakowski, Rubicon TV Producer
Ellie Nowakowski is the Executive producer of Rubicon TV. This is her fourth year on staff. She appreciates how journalism has the power to inform and...