Lajuzan snowboards across the globe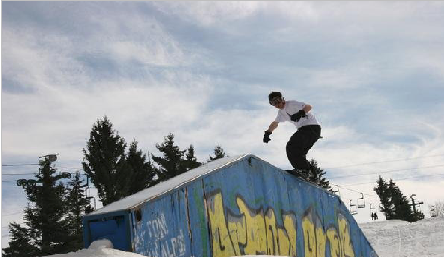 As many St. Paul Academy and Summit School students begin to hit the slopes at Buck Hill ski area, they might run into someone familiar speeding past them on a snowboard. Not only will this person look familiar, but many students have had him as a French teacher. It is Aimeric Lajuzan, Upper School French teacher by day and seasoned snowboarder by night.
Lajuzan first began snowboarding in 1998 in France during his first years of college. "I was starting college and I had never snowboarded before," Lajuzan said. "There was a ski and snowboard club."
For only $15, Lajuzan was equipped with snowboarding equipment, a lift ticket, a bus ride to the mountains and a beginner's lesson. All suited up, Lajuzan attempted to hit the slopes.
"My first time [snowboarding] was really, really bad," he said.
Though his first time snowboarding was full of many mistakes and falls, Lajuzan was hooked on the sport.
"I did [the snowboarding club] six or seven times. I saved up to buy used equipment of my own," Lajuzan said.
Soon after, Lajuzan became more skilled at the sport. He mastered the basic skills and started to do riskier and more advanced tricks. "Back in France I used to do a lot of cliff jumps," Lajuzan said.
After moving to Minnesota in 2006, Lajuzan ran into an issue: there were no mountains to do cliff jumps on while snowboarding.
"Back in Minnesota there were not big mountains so I learned more tricks and rail stuff. The thing I am most proud about is a backside board slide in a big battlefield rail," Lajuzan said. The backside board slide is a trick where you ride on a rail facing forward while your board is horizontal.
He quickly found a snowboarding home at Afton Alps in Afton, Minnesota. "I was an instructor at Afton Alps for a while," Lajuzan said. "So I still go there out of nostalgia. [Today], I mostly go to Buck Hill and I occasionally trip out West to the mountains."
Lajuzan's favorite part about snowboarding is mastering new tricks. "When you start to do tricks and all that, it is the tiny little improvements that you do and the things you need to do over and over and over again and you get more comfortable," he said. "Adding the 180 [degrees] to a spin or you do a trick on a rail and you change the way you get off the rail, that kind of thing, it's really cool. It feels like an awesome achievement."
Leave a Comment
About the Contributor
Hannah Johnson, Editor in Chief


Hannah Johnson is a senior at St. Paul Academy and Summit School. She is the Editor in Chief for the 2013-2014 school year. This is her third...