[FILM REVIEW] Lady Bird soars above expectations
The 2018 Oscar nominees have broken many gender and racial barriers. Jordan Peele became the first person of color to be nominated for Best Picture, Best Original Screenplay, and Best Director for Get Out, Rachel Morrison became the first woman to ever be nominated for Best Cinematography for Mudbound, and Greta Gerwig became the fifth woman to ever be nominated for Best Director for Lady Bird.
Lady Bird arrived in theaters in the US in November, and the film was a success even before hitting theaters, earning director Greta Gerwig the record for highest per theater average (sales during showings in key demographics) for a female director. Since then, Lady Bird has gained a significant amount of popularity. It received the Golden Globes for both Best Musical or Comedy Motion Picture as well as Best Actress in a Musical or Comedy for Saoirse Ronan. The film is also nominated for five oscars. Greta Gerwig earned her first two Oscar nominations for Best Director and Best Original Screenplay, Saoirse Ronan for Best Actress, Laurie Metcalf for Best Supporting Actress, and finally Best Picture. Lady Bird has done incredibly well on social media sites such as "Rotten Tomatoes", where it earned a rating of 99%. So what has Lady Bird done so well that made it such a hit in the film industry this year?
"
It's expected that in such a large scale film, the actors will be top-notch, but the acting in Lady Bird is so good it deserves extra praise. "
Lady Bird follows Christine "Lady Bird" McPherson (Saoirse Ronan), through her senior year at a catholic high school in Sacramento, California as she navigates the ups and downs of her lower middle class life with a dysfunctional family and fluctuating social standing. The movie focuses on the way her relationship with her mom (Laurie Metcalf) is affected as Lady Bird goes to college, meets boys, has friend trouble, etc.
Part of what makes Lady Bird so great is that it has somehow found the perfect mix of comedy and drama. Where most dramedies are dramatic at some points and funny at others with very obvious distinction, Lady Bird intertwines the two incredibly well. This combined with impressive acting, creates a very realistic feeling film that almost everyone can relate to. One of the best examples of this is very early on in the film in a scene showing Lady Bird and her mom arguing in a car. Lady Bird talks about how she wishes she lived in New York, "where culture is." Her mom goes on about how Lady Bird should just go to the local college, then jail, then back to college. After more arguing, Lady Bird proceeds to jump out of the car. This scene uses an everyday situation that most people have been in and therefore can relate to one, if not both of the characters, and makes it humorous. By establishing connections to the characters earlier on in the film, viewers feel more sympathy for them later on. This notion is supported by the tremendous acting in Lady Bird.
It's expected that in such a large scale film, the actors will be top-notch, but the acting in Lady Bird is so good it deserves extra praise. While watching the film, the actors embody their character so well that their real identities are completely forgotten. Within the first five minutes of the film, you will have completely forgotten that Saoirse Ronan is actually a 23-year-old raised in Ireland and will be completely convinced she is a 17-year-old from Sacramento.
Lady Bird is one of — if not the — best movies to come out of 2018. Greta Gerwig's directorial debut is the perfect mix of humor and heart that viewers of all ages will enjoy.
Rating: 5/5 ⭐⭐⭐⭐⭐
About the Contributor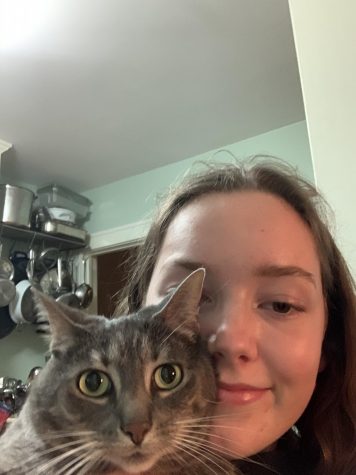 Liv Larsen, Feature Editor
Liv Larsen is a Feature editor on RubicOnline. This is her fourth year on staff. She has been staying busy during the pandemic by watching (too many) movies,...