Juniors battle over library chess boards
"Checkmate."
Junior Kit Rasmussen sits and plays chess across from frequent challenger junior Zeeshawn Abid in the lower library at Saint Paul Academy and Summit School.
"No… -" "Yes I am, I can't go anywhere." "Oh, yeah, he's right. It's checkmate."
Abid, who plays chess in the library every day, has just lost this game.
"It's the only game here," Abid answered in response to why he plays chess every day. "It's more out of necessity than anything."
Most days the lower library is populated by students engaged in a riveting game of chess during free periods or lunch. Lying on the chess boards are pawns, queens, and knights ready to strike the opponent at the players' will.
"Awful. God-awful," Abid said, describing himself as a chess player.
Junior Kyler Weatherspoon, ranked 54th best under-18 chess player nationally, also plays chess at SPA.
"In sixth grade, there was a chess club at my school, Capitol Hill. That's when I started playing," Weatherspoon said. "They had a thing where our team would go to nationals. I ended up going and I thought it was fun."
"I'm a pretty impulsive, pretty impatient chess player," Rasmussen said, playing a four-person game of chess. Whenever a piece is taken on one board, the player using the opposite set holds on to it until they place it on the board. A piece can be put into play at any time, except in check. The game is over when a player is in possession of all four kings.
"Even if there were other games here, I'd still play chess as often," says Rasmussen. Rasmussen plays chess about two to three times a day.
The clattering of chess pieces provides an atmosphere unique to the lower library. "These laid-down pawns are queens," explains Rasmussen, subtly hinting at the missing pieces in the sets.
Playing with him is junior Jack Labovitz, who is sitting at the opposite board. "I seem to be a little bit surrounded," Labovitz remarks, snickering a little under his breath.
He and his opponent's board have most of the pieces, whereas Rasmussen and his opponent's board is sparse in comparison. "Yeah. This'll take a long time," Rasmussen said.
"Kit's the only reason I play. He can be very persuasive sometimes," Labovitz explains.
"I about once a week." Rasmussen nodded his head in approval.
"I enjoy the stimulating intellectual competition. How it's so challenging," Rasmussen said. He started becoming interested in playing chess at Camp Mishiwaka, a summer camp.
"Chess is a really great and is a unique way to develop your mind, your ability to be more analytical, and allows you to be more creative," Weatherspoon said. "It allows me to have a clear goal in mind."
Leave a Comment
About the Contributor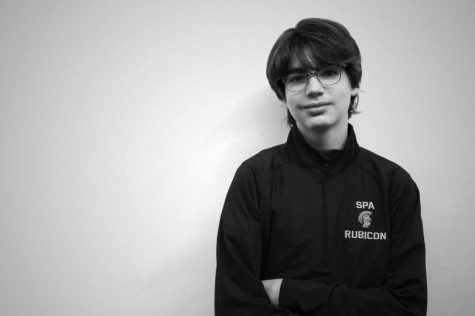 Paul Watkins, Science & Technology Editor
Paul Watkins is a second year staff writer, newly appointed Science and Technology editor on the Rubicon staff. Paul has a passion for classical music,...