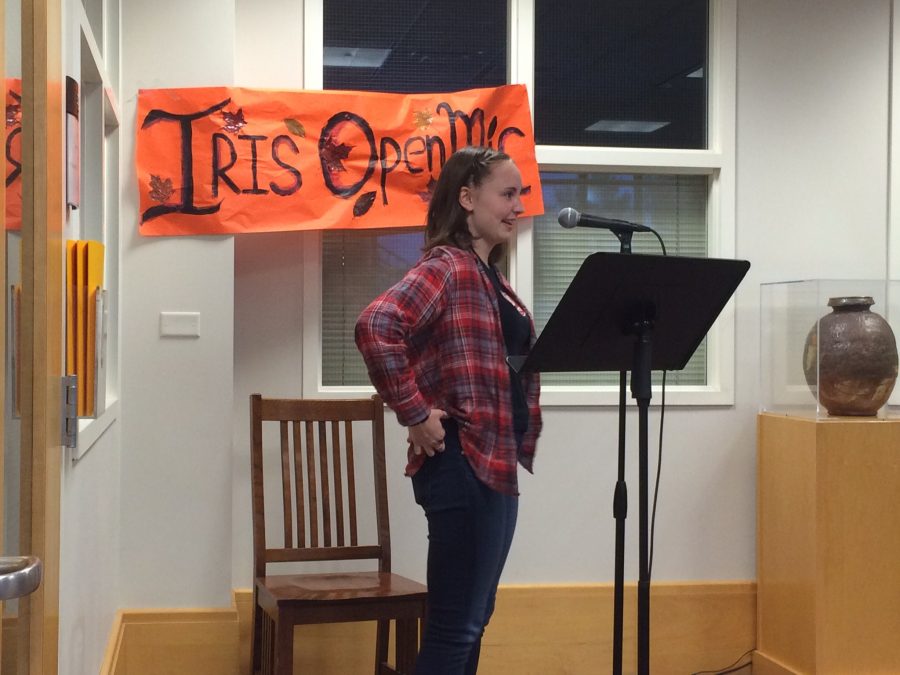 Ellie Nowakowski
Iris: Art and Literature Club's inaugural open mic night occurred on Oct. 26th in the Summit Center. Students and teachers alike littered the couches and tables to listen to writing, enjoy some snacks and absorb the fall themed event.
"Just the right amount of people came for it to be a welcoming and supportive space to share writing," Iris co-president A.M. Roberts said.
This environment gave students and teachers the perfect chance to share their writing. Ninth grader Anna Snider read a piece of her own entitled "The Problem with Rainbows." It was her first time sharing her work.
"I never perform in front of people, especially things that I write," Snider said.
The club set up a microphone in one corner with a stand for people to read. The tables had colorful "leaves" for people to write on if they felt inspiration while listening to others pieces. The "leaves" were later put up on a fake tree displayed on the bulletin board. Many students and teachers shared a variety of pieces, some shared the work of others, while most people shared work of their own. People listening had the opportunity to write feedback to those who shared their pieces, allowing the space to be an open, inspiring and supportive atmosphere.
"I think all of the writing was really good, and I hope that it inspired people who were listening to read next time," Roberts said.
Spectators and performers could agree that the night was beautifully orchestrated and a huge success.
"I'm really glad that I did it," said Snider.
Iris hopes to coordinate open mic nights like these once a quarter to evoke feelings of inspiration and creativity in the future.