Instagram copies Snapchat, users think it's old news
Instagram is at it once again, making improvements to their app that mirror that of other popular social media outlets like Snapchat. Instagram, the popular social media app, has been replicating elements of Snapchat since 2016. Instagrams latest update launched a personal story features which allow its users to post a story on their account with a selected audience. Nicknamed a private story by users of Snapchat, the private stories, now usable on Instagram, pop up after a user has posted a story. While Instagram has added this feature, the questions remain if users will move their secret stories from Snapchat to Instagram.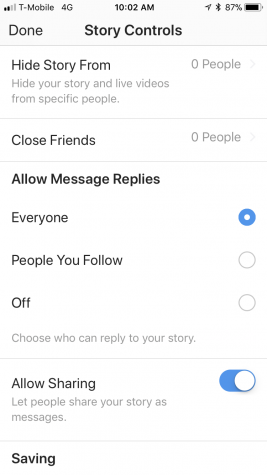 Senior Muriel Lang thinks that it is unlikely that users will flock to Instagram for this feature. "I have a private story that I use occasionally on Snapchat and was surprised to see that Instagram added a similar feature to its app. I really don't think that this new feature on Instagram will become popular among its users because everyone is already accustomed to using Snapchat," said Lang.
When tapping on the three dots in the right-hand corner of the screen, a menu of options pops up. Under the column labeled story settings, the story controls allow the user to hide the story from specific followers. The menu also includes a list of close friends which allow users to craft a list which they can use to send out stories. This new feature on Instagram almost exactly mirrors that of Snapchat, drawing closer to a single hybrid social media application. I don't think that the addition of this feature to Snapchat is all that interesting.[/pullquote]"I don't think that the addition of this feature to Snapchat is all that interesting. If I am being honest, I had no idea that this feature was available. I like seeing secret stories only on Snapchat because that's what the app is used for. Instagram is a different type of social media platform, said sophomore Olivia Lagos.
However, while initial reaction is a poor review, Instagram's addition of stories, which launched in 2016, has become a popular element to the app. "When Instagram first launched its stories feature I really did not think that it would catch on since it was exactly like Snapchat. But, two years later and I see Instagram stories every day. So, who knows maybe secret stories will be a thing on both Instagram and Snapchat," said Junior Pia Schultz.
Whether it's easy to find name codes, the addition of stories in general or the most recent secret stories, there is no mistake that Instagram is copying elements of Snapchat.