INFOGRAPHIC: Students predict the midterm elections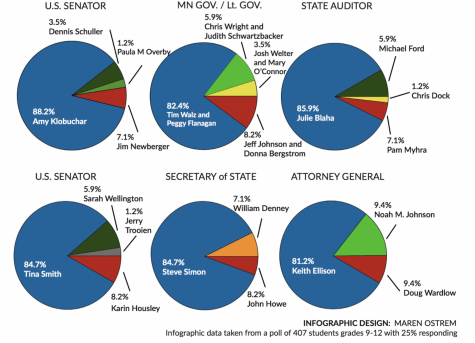 The U.S. midterm elections will occur on Nov. 6, but the student body had the opportunity to cast a ballot early, and the prevailing vote is Democrat-Farmer-Laborer (DFL).
According to FiveThirtyEight online, the state is "solid Democrat" in the U.S. Senate vote; however, national predictions keep the Senate at a 4 in 5 chance that the Republicans will retain control.
In Minnesota, the site reports "likely Democrat" in the race for Governor.
All citizens that have lived in Minnesota for 20 days or longer and are of 18 years of age or older may vote.
This data was originally published in the October 2018 issue of The Rubicon. The poll was created by Kat St. Martin-Norburg.
About the Contributor
Maren Ostrem, Managing Editor
Maren Ostrem is the Managing Editor for The Rubicon. This is her fourth year on staff. During this social distancing period, Maren has been snuggling with...