In second House cup event, Gold takes the gold again
In the battle of blue vs. gold, it's gold for the win in the second House Cup game of the year: musical chairs.
Why that game?
"We voted on it," USC co-President Tenzin Bawa said.
The stands filled in Briggs Gymnasium during X-Period Tuesday, with supporters divided into Blue and Gold sections. With the reward of 100 points and special recognition, students on both teams were ready to compete, as Upper School Council co-Presidents Bawa and Maryeva Gonzalez called the names of the 32 students and two teachers selected from the many hopefuls that filled out the entry form sent last week.
In each round, USC member George Peltier removed several chairs from the circle, eliminating more and more players.
The playlist was rowdy and varied, containing hit songs like "Hey Ya" by Outkast getting the crowd clapping and the ever-so-famous "Baby Shark" eliciting a mix of groans and head bobs from the crowd.
Through most rounds, players walked slowly and paused before gaps in the circle in the hopes of not being caught out too far from a chair. Some, like Yash Kshirsagar, were seen touching chairs as they walked by, in hopes of grabbing the back and snagging a seat before anyone else could slide in.
In the final round, junior Rita Li and freshman Thomas Chen picked up the pace, speedily walking the half-court circle, around the one remaining chair. When "Dancing Queen" paused, the players dove for the chair, Li taking the final seat (and victory).
The Gold side of the bleachers erupted with applause and cheering, while the Blue side shook their heads in defeat.
After her win, Li said "At first I joined because they just wanted more people… At the end, I felt like it brought out my competitiveness. It felt really good to win."
House cup is made up of two equally divided teams, Blue and Gold. This is the first year with two House Cup teams; in previous years, the given team designations were 9, 10, 11, seniors, and faculty. The teams compete against each other in a series of pep-fest-style events throughout the year to earn points..
The first House Cup event was a Tug of War game on October 4th. Upcoming challenges have yet to be announced, but SPA is waiting with excitement.
Leave a Comment
About the Contributor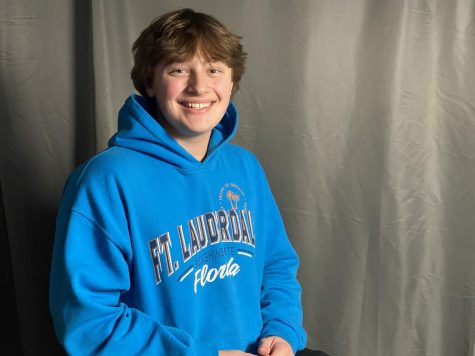 Marius Elias Morse, Photojournalist
Hey! My name is Marius Elias Morse (he/him). This is my second year on staff. Currently, I am the photojournalist for RubicOnline, and last year I worked...