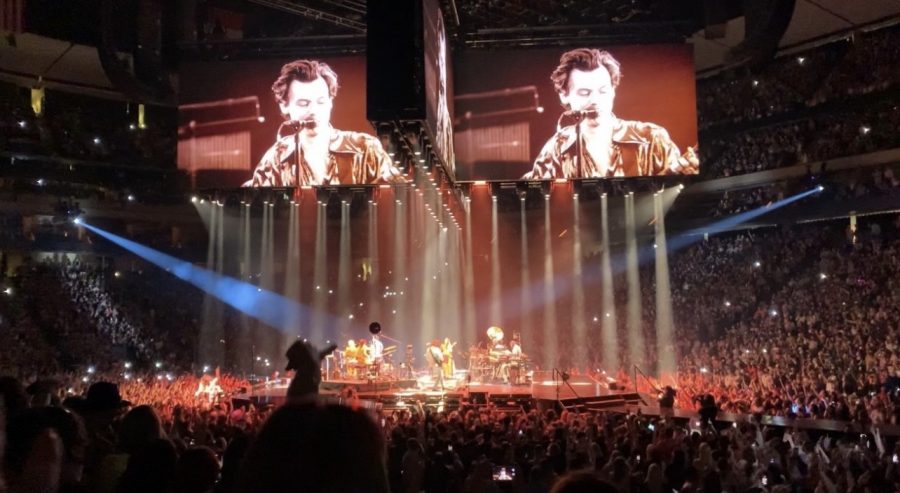 Submitted by Mimi Huelster
Bigger in-person concerts are back on stage. In the past couple of weeks in the Twin Cities metro, Phoebe Bridgers performed at Surly Brewing Co. in Minneapolis, and a Harry Styles filled the Xcel Energy Center in St. Paul.
Junior Lindsay Browne heard Phoebe Bridgers on Sep. 11. Compared to other concerts Browne has been to pre-pandemic, "this one they held outside which was actually very nice because it was a nice venue," Browne said.
Additionally, precautions were taken to mitigate the spread of COVID-19. She said, "[there were] definitely a lot fewer people than concerts I've been to before but it was still very fun… it was outside and everyone had to be wearing masks and they required proof of vaccination upon entry."
Browne said the concert felt safe and relatively normal. As a result of the precautions taken, she said, "I would definitely want to go back."
In attendance at the Harry Styles concert on Sept. 22 was junior Mimi Huelster. Before experiencing Harry Styles' show, Love on Tour, she had never been to a concert that big — even before the pandemic.
"Actually," Huelster said, "up until a few weeks ago, the only concerts I had been to were small local shows put on by my parents' friends and other people I know personally."
Considering this, "the concert felt as 'normal' as it could have," Huelster said.
Huelster felt considerably safer due to the policies put in place by both the Xcel Energy Center. Everyone was required to submit either their proof of vaccination or a negative COVID-19 test result online before entering the venue. "It was nice knowing that everyone around me was either vaccinated, like I am, or tested negative not too long ago," Huelster said.
Huelster's admits, though, that the experience was strange: "I had forgotten that so many people can gather in one place at the same time for the same purpose without chaos ensuing."