Leah Hughes
How do people present themselves through the clothes they wear? How does what one wear affect how they are viewed, and vice versa? These questions are just a few of the many that senior Leah Hughes is trying to answer through her project titled "Social Construct: A Fashion Collection."
The collection will be exhibited on Oct. 8 at the Dow Art Gallery and Picture Framing in St. Paul, starting at 7:00 pm. The show will feature original fashion pieces designed and created by Hughes herself, as well as music by local bands, including seniors Lutalo Jones and Enzo Vinholi's band, Good Luck Finding Iris. A crowd of around 200 people is expected.
"The theme of the show is talking about the way that people present themselves, not necessarily just with fashion, but more generally, the way people identify and are identified and the way people express themselves through clothing," Hughes said."I want to explore how people are viewed and how that affects the way they chose to look and present themselves."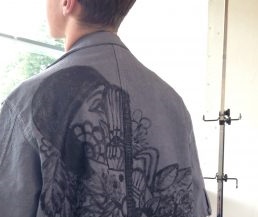 Hughes started working on the collection late last summer, and has been continuing it as a part of her Senior Art Seminar class. She has designed and sewed all of the pieces herself. While she has never had any formal instruction in how to sew, she's managed to pick up the skill pretty quickly.
"I got a lot of books from the library [on sewing] and my mom knows how to sew, so she's helping me," Hughes said.
While she is devoting a significant amount of time to the project, up to eight hours a day, Hughes believes it is worth it because she is interested in pursuing a career in fashion, and hopefully bring positive change to the field.
"The college I want to go to is really focused on fashion," Hughes said. "I do want to become a fashion designer. I don't want the glamour and lifestyle of a designer, but instead I want to change the industry, because people are putting street wear on runways, which is putting clothes that normal people wear on bodies that normal people don't have, and that's an issue. Fashion used to be an expression of art, and you wouldn't just wear something straight off the runway."
Hughes is excited for the fashion exhibition, and looks forward to making an impact on the audience attending.
"We're having all the models on the same level as the people viewing them, so it's going to feel very interactive," Hughes said.
Read about the event in the October print issue