How COVID-19 will change music classes
An area where change is sure to be made is the arts, and more specifically music classes.
It is undoubtedly true that SPA's return to school will be significantly different from those in the past. It is difficult for students to truly know what changes lie ahead since the year has just started, but we do know that know there will be changes.
An area where change was sure to be made is the arts, and more specifically music classes. One big change is that the only music ensembles that will rehearse inside upon a return to campus will be orchestra groups. The World Health Organization (WHO) has said that choir groups and woodwind ensembles spread more aerosolized virus particles than an ordinary conversation would, so choir and band groups will not be rehearsing indoors. Sophomore Lindsay Browne said, "we will be having choir outside because we aren't allowed to all be in the same room together. Mr. Kraack said we will be outside, standing six feet apart and wearing masks while we practice our songs. I'm not sure what we will do once it gets too cold to be outside or if it is raining." It is being considered to have the Jazz ensemble and wind groups rehearse outside as well, but Ms. Engelhardt said that, "it requires much more preparation and set up than a choir rehearsal would. If there is any wind, then music stands will fly all over the place and fall down"
All orchestra ensembles plan to use much more space for rehearsals than in previous years. Rehearsals will take place in Huss, and many students will be seated throughout the aisles of Huss and some spread out on stage in order to be in accordance with social distancing measures.
"
'We will all rehearse in the Huss Center. Cellos, basses, and keyboards will be on stage, and violin one, violin two, and violas will be spread out in the halls' says Ms. Engelhardt, 'This set up will give us an orchestral feel'"
— Ms. Engelhardt
Converting any class from in-person to online is a challenge for teachers , but classes that typically require a group to be together are even more difficult to transfer to a distance learning plan. When rehearsing together in Google Meets, "the delay in the sound is all over the place, it's impossible to play as a group" This has led orchestra groups to rehearsing by section.
Even though they have not been able to rehearse on campus yet, choir groups have continued to further their music education during the three weeks of distance learning, and have continued to make music together, "This year, unlike last year, we sing during google meets, but we are on mute. Mr. Kraack has his microphone on and plays the parts for us, and we follow along with our music" Although not being able to be physically together is an obstacle, it is one that is possible to overcome as we have seen during the time spent in distance learning at the end of last year.
Every teacher at SPA has found ways to make classes meaningful even with more obstacles than ever before. Despite all of the challenges faced this year, "the offerings are all the same" says Ms. Engelhardt. All music teachers have continued to find ways to translate what would be done in person to a distance learning model as a result of these obstacles, which is something no one would have ever imagined could have happened before the Covid-19 pandemic.
Leave a Comment
About the Contributor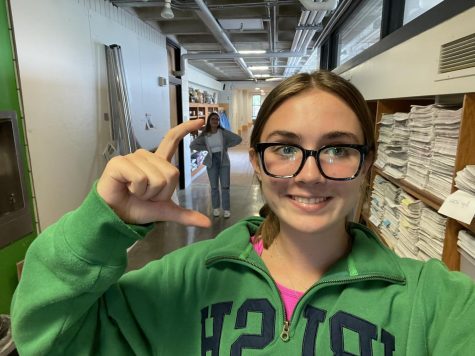 Alexandra Cardwell, Opinions Editor
Hi! I am Alexandra Cardwell. I am a co-editor of the Opinions section for the 2022-2023 school year. This is my fourth year on staff, and in the past I...