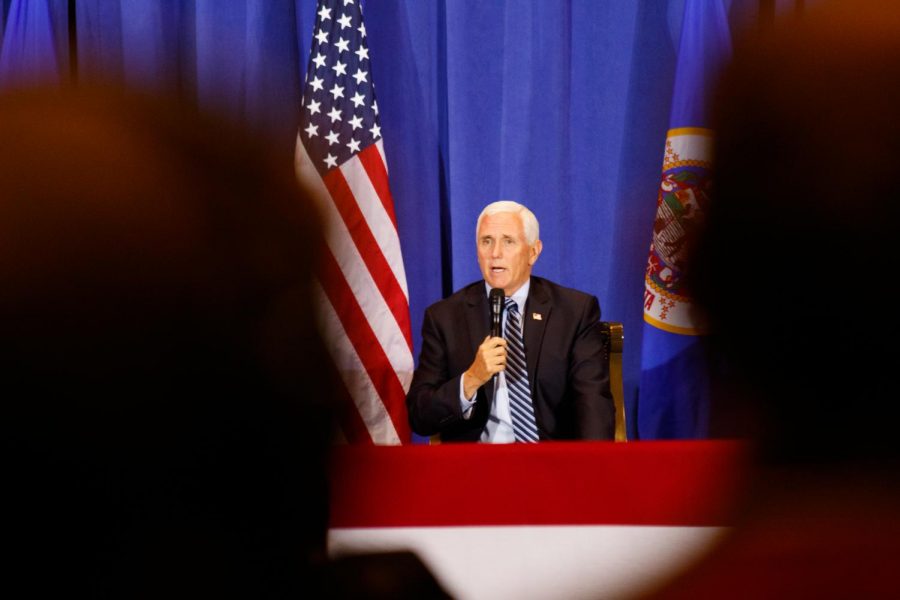 Nikolas Liepins
Vice President Mike Pence hasn't ruled out invoking the 25th Amendment to remove President Trump from office, according to CNN. Though the New York Times previously reported Pence was against using this measure, CNN's source close to the Vice President states that Pence is keeping it as an option if Trump "becomes more unstable." Some on the Pence team are wary of taking such action out of fear the President will make a rash decision. After inciting Wednesday's attempted coup that left five people dead, Trump turned on Pence on Twitter.
CNBC reports that the President and Vice President have not spoken since the Capitol attack. Twitter has permanently suspended Trump's account, and Facebook and Instagram have banned him indefinitely, citing the risks of providing the President a platform after what he did Wednesday. Twitter states, "we have permanently suspended the account due to the risk of further incitement of violence."
Though Pence has yet to make a public statement on the 25th Amendment matter, Secretary of Education Betsy DeVos resigned Thursday believing the measure was off the table. Transportation Secretary Elaine Chao resigned earlier Thursday. Democrats have criticized both for departing from the Cabinet rather than remaining to invoke the 25th Amendment.
With over 200 members of Congress from both houses calling for President Trump's removal, Speaker of the House Nancy Pelosi wrote in a Sunday letter that House Majority Leader Steny Hoyer (D-MD5) will ask Unanimous Consent on Monday morning to bring up a resolution that calls on Pence "to convene and mobilize the Cabinet to activate the 25th Amendment to declare the President is incapable of executing the duties of his office" within 24 hours. If they are unsuccessful in obtaining Unanimous Consent, the legislation will be brought to the House Floor on Tuesday.
Pelosi wrote that "[n]ext, we will proceed with bringing impeachment legislation to the Floor." She added: "In protecting our Constitution and our Democracy, we will act with urgency, because this President represents an imminent threat to both."
The frontrunning impeachment resolution is a single Article of Impeachment authored by the House Judiciary Committee. The legislation has at least 210 co-sponsors, according to a Sunday afternoon tweet by Rep. Ted Lieu (D-CA33). "We urge @POTUS to do the right thing and resign," tweeted Lieu, "[o]therwise, Trump will make history as the only President to be impeached twice, by two Congresses."
Among those in the House calling for Trump's removal is just one House Republican, Adam Kinzinger.
CNBC's Josh Lederman says Congress will have to move with "unprecedented speed" to complete the impeachment process. CNN writes that this impeachment "would be fast: No investigations and no weeks-long hearings."
Trump can be impeached by simple majority in the Democrat-controlled House. If that happens, Trump would be the first President to be impeached twice. Impeachment doesn't mean removal, though. That authority lies in the Senate, where Nebraskan Sen. Ben Sasse has said: "I will definitely consider whatever articles they [the House] might move because, as I've told you, I believe the President has disregarded his oath of office."
While numerous GOP lawmakers have spoken out against Wednesday's attack on the Capitol, many directly criticizing the President, few have called directly for his removal. Sen. Lisa Murkowski of Alaska has called on Trump to resign. Sen. Pat Toomey of Pennsylvania also called for Trump's resignation and said Trump committed "impeachable offenses." Sen. Roy Blunt of Missouri said the President needs to "be very careful" in his last less than two weeks in office.
Additionally, three sources told CNBC that Secretary of State Mike Pompeo and Treasury Secretary Steve Mnuchin were among the Cabinet members who preliminarily discussed invoking the never-before-used Section 4 of the 25th Amendment to remove Trump. Though no formal actions have been reported signalling the use of this method, Axios' national political Jonathan Swan reported on MSNBC that many of Trump's senior officials are using "a de facto 25th Amendment, which is they are acting as if he [Trump] is not the president."
"Ignoring him, staying away from the west wing, staying away from him hoping he doesn't call," Swan continued, "should he issue any orders that they deem dangerous or unlawful, they will flatly refuse those orders."
This is a developing story. Stay tuned to RubicOnline for updates.