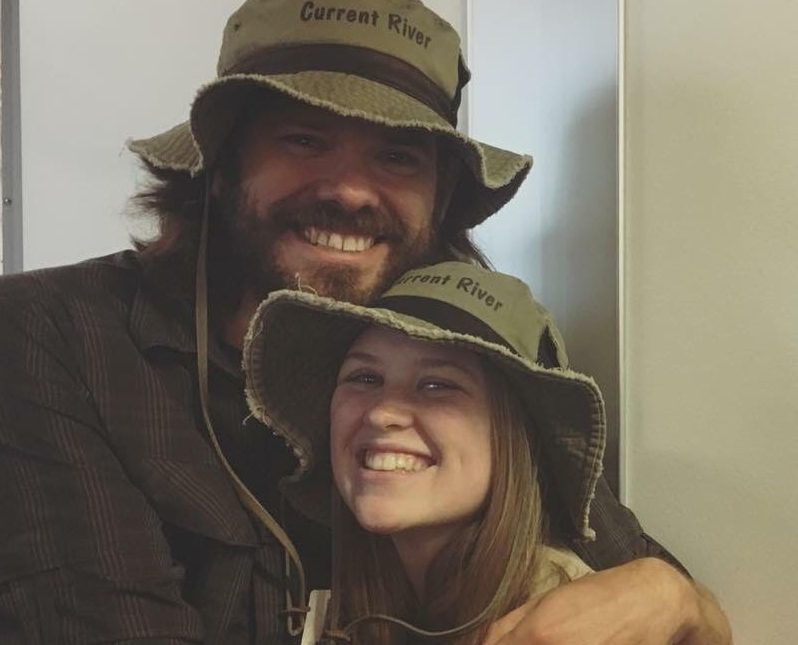 Submitted Photo: Dorienne Hovan
A common recurring nightmare that students have is showing up to school in pajamas. Fortunately, they can just blink open their eyes and realize it was a bad dream. One can imagine showing up to school and finding their parent teaching first period would elicit a similar, nightmare-ish sense of dread. However, for the faculty children at Saint Paul Academy and Summit School, having a parent as a teacher is not a nightmare but a (mostly) pleasant reality. 
While this could be seen as a challenge to navigate, senior Dorienne Hoven, the daughter of US English teacher Matthew Hoven, finds that there is one large benefit. She enjoys that her father's friends are also her teachers and this helps her create a better and closer relationship with them.
"I get to hang out with teachers outside of school because of him, so I'll go over to their house or they'll come over to mine. In a way, I have a closer relationship with all of the teachers and I know them on a different level, because it's one thing to see them in school and it's one thing to see them outside of school," Hoven said.
Sophomore Annika Findlay agrees that a major benefit is getting to know her teachers. She is the daughter of US English teacher Randall Findlay.
"Having a teacher as a parent isn't that different, except a lot of the other teachers already know you before you know them," Findlay said.
The downside to having a parent that is friends with one's fellow teachers is their constant communication. A bad assignment, grade, test, quiz or day in class is not always communicated to a student's parents, but when that parent is always around, it's easy for them to ask about it at the lunch table or in the halls.
"News gets around the school really quickly. If I don't do well on an assignment, the teacher can just find my dad and talk to him about it, whereas they might not be able to do that with a parent who doesn't work at the school," 9th grader Jonas Bray said. Bray is the son of MS Chinese teacher Neil Bray.
This is true, whether the news is good or bad. "He can talk to my teachers and ask them how I'm doing in my class, or how an assignment went. He's interacting with the teachers," Dorienne Hoven said.
Having a parent in school is often helpful. Annika Findlay notes that having her father nearby at all times helps when she finds herself in a jam: "One benefit I notice is if I have a question, forgot my keys, a permission slip, or something along those lines, my dad is just upstairs and I can go find him and get it addressed immediately," she said.
Balancing the teacher-student and parent-child relationship has proven easy for these students. They note that they are rarely embarrassed by their parents, no more than if they were not teachers at their school. It does not affect the academic pressure that they face, as Hoven, Findlay and Bray keep their schoolwork separate from their relationships with their parents.
None of the students ask their parents for homework help frequently. Findlay finds that a select group of students feels that it is unjust for her to get help from her dad, and avoids this criticism by avoiding his help altogether. Hoven finds her father's process to be too long and would rather move on to other work than dwell on her English, as her father might suggest.
SPA usually does not place students in classes with their parents. While Findlay has never had her father as a teacher, Hoven has been her father's student.
"I got to actually have him as a teacher for Creative Writing and it was really fun, because it was focused more on process instead of product, which allowed us to be creative and less restricted in our writing," Dorienne Hoven said.
For Findlay, Hoven and Bray, maintaining a regular parent-child relationship is a priority, but they do enjoy the benefits of navigating school life with a parent who is also a teacher.