Head Coach Willie Taylor brings optimism with new leadership
Last year's Spartan girls basketball team rostered only nine players and lacked experience. The challenging season ended with a rocky track record, but now a new coach is stepping in.
Willie Taylor worked as head coach for Mounds View High School, Central High School in St. Paul and most recently, Stillwater Area High School. In the 2020-21 regular and postseason, Stillwater had an almost perfect record with 21 wins and one loss.
Taylor's first year as a head coach was 1991. As a coach at Mounds View he led the team to conference and section championships and state.
Once he moved to Central, the school won nine conference championships in a row and multiple section wins. Perhaps his most impressive accomplishment was leaving Central with a perfect track record in 2007, winning all 32 games.
He was admitted to the Minnesota Girls Basketball Coaches Association Hall of Fame in 2009 for his tremendous leadership.
Now, Taylor will coach the girl's basketball program where his daughter, freshman Julia Taylor, attends school and his wife, Naomi Taylor works as Director of Intercultural Life.
Taylor was planning on retiring from coaching, but after all these years, his favorite part of coaching still stands. "I enjoy building relationships and seeing people being happy from them proving that they're gonna get to play," he said.
Besides his impressive past with coaching, Taylor doesn't have an "all work no play" ideal.
"
I want to make a difference. I want to make this team start to believe that they can do it, that they can win. "
— Coach Willie Taylor
Director of Athletics Dawn Wickstrum said that in the interview, Taylor "was able to share a coaching philosophy that we felt had the best fit for SPA. He talked about how when student-athletes have fun, basically, the sky's the limit… He understood that while working hard, you can also enjoy the ride."
One thing's for sure, Taylor will make the teamwork hard. "He seems like a great coach and I can tell he'll push me a lot to grow as a player," freshman Natalie Waibel said.
With the past track record, the team is heavy on spirit and having fun and Taylor will continue these traditions while also bettering the players. Junior Lindsay Browne, who captains the basketball team, said, "He definitely comes across as very positive and someone who wants all of the players to enjoy themselves during practices. I think he will create a good program culture of working hard but also having a lot of fun."
Taylor said that whatever the win-lose outcome of this season, "I want to make a difference. I want this team to start off believing that they can do it, that they can win."But winning is definitely part of the plan. "I'm not saying I want to beat the top team, but I want them to be scared," he said.
The girls take the court Dec. 2 against Breck.
Leave a Comment
About the Contributor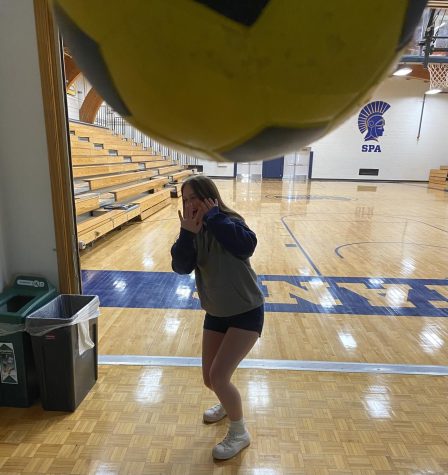 Catherine Hooley, Managing Editor
Hi, I'm Catherine Hooley, the Rubicon Print managing editor. I've been on the Rubicon staff for four years, and I've acted as a staff writer, the News...