Hands up, don't shoot: Brown's death sparks controversy
Self defense or racial profiling? The story behind the Michael Brown case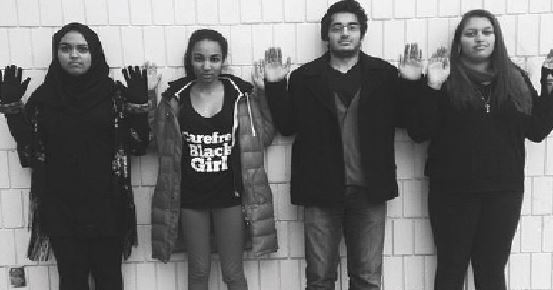 Meghan Joyce, Arts and Entertainment Editor
December 20, 2014
An unarmed 18-year-old black boy named Michael Brown walks down the street. He encounters a white policeman, Officer Darren Wilson.
The details are disputed, but a heated argument ensued between them and Wilson drew his gun. Wilson went home that night with a faint bruise, and Brown was left dead in the street for four and a half hours with seven bullets in his head and chest. Wilson was not indicted by the grand jury.
Brown's death Aug. 9 is an individual tragedy and injustice, but in a broader scope it represents just one manifestation of racial inequality in the American justice system which has claimed thousands of other victims. According to a ProPublica analysis of federally collected data on fatal police shootings, young black males are 21 times more likely to be shot dead by police.
So, were Wilson's shots truly an act of self defense? Or was Brown a victim of deadly racial profiling?
The Grand Jury
Former Chief Judge of the New York Court of Appeals Sol Wachtler said that district attorneys have enough influence on grand juries that they could easily convince them to "indict a ham sandwich," as the jury only sees what the district attorney wants them to about the case.
This power makes it incredibly rare for federal grand juries not to indict, as they chose to do in Ferguson, though grand juries indict much less frequently in police shootings. According to the Bureau of Justice Statistics, only 11 of 162,000 prosecuted cases were not indicted in 2010.
A grand jury met in secret for three months to decide whether the evidence warrants indictment, the formal accusation which precedes a trial by jury. Usually, it consists of 23 average citizens. In this case, it consisted of 12: nine white, three black – and agreement between nine or more jurors makes the criminal decision. The tally has not been made public.
"
We are profoundly disappointed that the killer of our child will not face the consequence of his actions."
— the Brown family
Physical evidence did support Wilson's claim of self defense, and some witnesses even testified that Brown charged at him. This would give Wilson a reasonable cause to defend himself, however, hospital records described Darren Wilson as "well-appearing, well-nourished, in no apparent distress" the night of Brown's death. While witness reports were conflicting, there was near consensus that Brown put his hands up in apparent surrender before Wilson killed him. Whether Brown's hands were up or he was charging, were that many shots needed?
In Wilson's testimony, he dehumanized Brown throughout the description of their altercation, but also explained the fear that drove him to pull the trigger: "I felt like a five-year-old holding onto Hulk Hogan…he looked up at me and had the most intense aggressive face. The only way I can describe it, it looks like a demon, that's how angry he looked."
Regardless of whether or not the shots were fired in self defense, Brown's family said that they "are profoundly disappointed that the killer of our child will not face the consequence of his actions," and they hope that through peaceful protest, injustice within the justice system will be fought.
The Bigger Picture 
Within an hour of the St. Louis County prosecuting attorney Robert McCulloch announcing the grand jury decision not to indict Wilson on Nov. 24, President Barack Obama delivered a statement in which he laid out his thoughts on the greater significance of Michael Brown's death from police brutality.
"We need to recognize that this is not just an issue for Ferguson, this is an issue for America," Obama said. "Separating that from this particular decision, there are issues in which the law too often feels as if it is being applied in a discriminatory fashion."
The executive director of the American Civil Liberties Union of Missouri, Jeffrey Mittman, issued a statement expressing his concerns and campaigning for the public to take a stand: "…Michael Brown's tragic death is part of an alarming national trend of officers using excessive force against people of color, often during routine encounters… The officers and police departments are not held accountable."
The general public has demonstrated a similar reaction to these public authorities, as protests broke out nationwide following the announcement of the grand jury's decision.
The Protests
"No justice? No peace!" "Black Lives Matter!" "Hands up, don't shoot!" "Ferguson is everywhere!" "We will not be silent!" People screamed these words nationwide as countless peaceful protests erupted in hopes of making a difference with their words.
According to the Star Tribune, in Minneapolis on Nov. 25, about 1,000 peaceful protesters gathered in front of 3rd Precinct police station to lay down and block roads (north and southbound on Highway 55) and call out for justice.
Not all of the cars were stopped, though.  A pedestrian protester, a 16 year old girl, was taken to Regions Hospital for minor injuries after she was run over by a car that went through the crowd. According to the Star Tribune, "the victim's vehicle was damaged by a large group of people… while [the driver] was attempting to flee from the mob, he struck a pedestrian. State accident report filed." Later, the driver's status was changed from victim to suspect, but charges have not been filed.
In Ferguson, at least at first, it was violent. According to an article from National Public Radio, protesters threw rocks, bottles, and batteries at police, and a patrol car was lit on fire, so the police dispersed crowds with smoke. The situation was such that the Federal Aviation Administration issued a no-fly zone over Ferguson.
A dozen or more commercial buildings were destroyed by fires in Ferguson after the decision not to indict was announced, according to ABC News. Missouri Governor Jay Nixon announced that around $625,000 in loans would need to be given to affected businesses in the area.
Then, on Black Friday, Nov. 28, there was a nationwide retail boycott to support police brutality victims. According to CNN, the St. Louis Galleria Mall protests caused a temporary shut-down. Every once in a while, protesters would lie down on the floor for what they called a die-in.
The Results
Wilson had been on paid leave since killing Brown (and garnered donations of almost half a million dollars), but resigned on Nov. 29 because the police department received threats of violence if he remained on the force.
Protesters have mixed feelings about Wilson's resignation. Many feel that he should have been fired long ago, and others feel that it is just a single, tiny step in the right direction that he isn't on the force.
Brown's murder gave a cause a martyr and sparked a revolution. It's a revolution which won't stop until everyone is able to trust those who are meant to serve and protect them, regardless of the color of their skin.
About the Contributor
Meghan Joyce, Chief Visual Editor
Meghan Joyce serves as the Chief Visual Editor for The Rubicon. Meghan is a senior at St. Paul Academy and Summit School, and this is her third year...