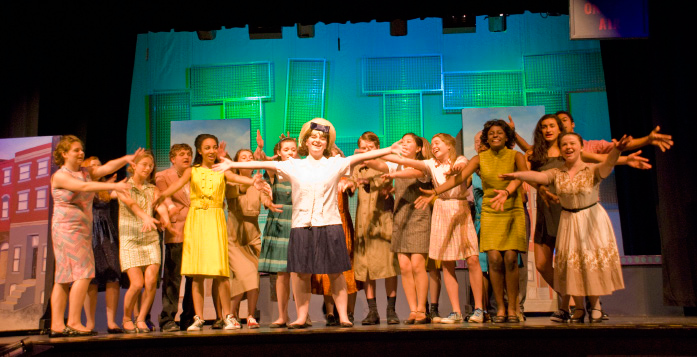 Hairspray is more than just another peppy musical. Behind the colorful costumes and energetic dance numbers is a powerful message about racial boundaries that continues to be relevant to this day. Set in Baltimore in 1962, high-schoolers Tracy Turnblad (Sophia Myers-Kelley) and best friend Penny Pingleton (Claire O'Brien) are obsessed with the Corny Collins Show, a television program where local celebrities show off their best dance moves. When a spot on the show opens up, Tracy's friend Seaweed (Ibad Jafri) helps her secure a place on the show. This is Tracy's dream come true, but she soon finds that being on the Corny Collins show isn't all that it seemed. The show only allows white dancers on the council except for on Negro day, the last Tuesday of each month when black kids are allowed to dance. When the show's producer Velma Von Tussle (Clara Stahlmann Roeder) and her daughter, who dances on the show, Amber (Claire Flom-Staab) realize that Tracy is the new rising star of Corny Collins, and she has the attention of Amber's boyfriend Link Larkins (Cam Murray), they do everything they can to push Tracy away while simultaneously trying to fight her, along with those of Seaweed's mother, Motormouth Maybelle (Lexi Taylor-Sawyer), attempts to integrate the show. As the story progresses, Tracy overcomes challenges of her own by accepting her unconventional beauty and sense of fashion as does her mother Edna (August King) by learning to love herself. These morals tie together and, along with music and dance, create a captivating story of love, determination and hairspray.
St. Paul Academy and Summit School took a classic approach to this '60s themed musical complete with big hair done up with plenty of hairspray and beautiful costumes decorated in vibrant patterns.  "[Hairspray] has great music, exciting dancing, deliciously funny dialogue, and interesting characters and it has a message – a message about acceptance. What more could you ask for?" said director Eric Severson. The lighting was colorful bursts of greens, pinks and blues that complemented the flashy attire and energetic atmosphere of the cast wonderfully. The orchestra, made up of SPA student and teacher musicians along with professional musicians from outside of school, played catchy rock and roll numbers including the famous "Good Morning Baltimore" and the finale "You Can't Stop the Beat." The production of this dynamic musical took a huge amount of work from the cast.
"The first act of Hairspray is non-stop singing and dancing. We were having 3-hour rehearsals for three weeks and we still could have used more time," Severson said. The backstage crew also overcame a great number challenges, including a dislocated shoulder, multiple costume changes and the pressure to make hair as big as possible.
The casting of Hairspray highlighted the talents of the SPA class of 2013. Eight of the seniors involved in the musical have played a role in SPA theater for all four years of high school. "Theater lets you be who you are without judgement, which makes it such a fun, open, welcoming space," senior Ellie Fuelling said.
Hairspray was cast as the musical traditionally has been; split by race and with Edna Turnblad played by a man. One of the challenges that came along with the Hairspray casting was the sheer number of people who auditioned for the musical, many of whom had to be cut due to the fact that the Sarah Converse Auditorium stage where the musicals take place just isn't big enough. "It was overwhelming how many amazingly talented people auditioned.  I hate having to cut people but we just can't fit that many people on our stage," Severson said.
Underneath the important message about racism Hairspray is about being different and finding a place for yourself no matter what makes you unique, let it be race, size, or income.