Girls Varsity Soccer dominates Providence to continue winning streak
The girls varsity soccer team played an impressive game against Providence Academy earlier on Saturday at the Historic Lang field, ending in a 4-0 victory. In their second IMAC conference game of the season, it was crucial that the Spartans step up to keep their standing in the top rankings of the conference following their win against The Blake School in a 2-1 upset, and in the end, they did just that.
The team performed confidently and consistently, which was key to their win. The girls dominated offensively and played with a high level of intensity in both halves of the game. There was also notable chemistry between players which helped them connect passes well and set each other up for breakaways leading to 2 goals by captain Mia Hofmann in the 2nd and 50th minutes, one by captain Naomi Straub in the 68th minute, and last but not least, forward Ella Bond's first goal of her varsity career in the 71st minute. Both the players and coaching staff were extremely proud of their performance.
"We really played as a team, which meant that we were all focussed on how we could help our teammates and set them up well with strong passes. In the end, we played to our strengths and outplayed the other team," Straub said.
With the boys varsity soccer team playing in the second game of the Spartan doubleheader against Rochester Lourdes at 4:30 p.m., the sidelines were packed with fans who kept the school spirit alive throughout the whole game. It was clear that the cheers from their classmates motivated the Spartans to push through long halves and hot weather.
"It was really nice to have a large fan turnout, especially since spectators were limited last season due to COVID restrictions. Even in a normal season, we rarely get a lot of fans, so it was really encouraging to hear so much cheering and support," starting goalie Lindsay Browne said.
On a high from their four-game winning streak, the girls varsity soccer team will take on Minnehaha Academy this Thursday at home at 4:30 p.m. for another important conference game.
Leave a Comment
About the Contributor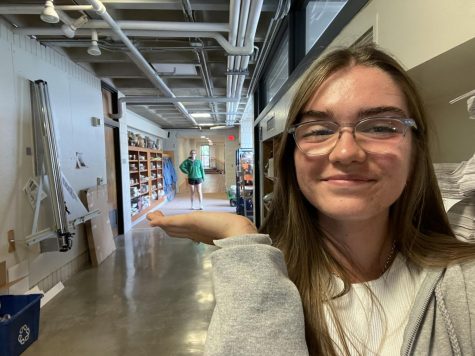 Ali Browne, Production Manager
Hi! I'm Ali Browne, and I'm the Production Manager for RubicOnline. This is my third year on staff and in the past, I have been the feature editor and...