Grande empowers women with new music
Ariana Grande released her newest album Sweetener on Aug. 17, and it was an instant success. The star had most success and controversy over the song, "God is a Woman" which brought to light many of the social issues affecting women today. The song is supposed to express womanhood, sexuality, and the strength that all women possess. The singer/songwriter focuses much of her attention on becoming a strong role model for her fans through female empowerment. The album means a great deal to Grande as well as her fans. In an interview by Billboard Magazine, Grande said, "I feel like I graduated almost. I feel like for a long time the songs [in previous albums] were great, but they weren't songs that made me feel something the way these songs do."
Grande is determined to create symbolism in each of her songs on the album. Not only does she sing about specific issues she feels strongly about, but she also created very visual and graphic music videos to go along with the album. In her song, "God is a Woman," Grande redefines the phrase that women rule the world. Hip-hop/pop artists have always used their music as a way to express themselves without any concern for their critics. Grande has never shied away from showing herself. She is famous for her chic clothing style such as the bunny ears and her famous high ponytail.
Many of Grande's songs throughout the album are similar to each other in style and technique. On the flip side, there are songs on the album such as "better off" and "raindrops (an angel cried)" that are very different from the kind of music that she usually publishes. "raindrops (an angel cried)" is a 38 second song that sounds ethereal and flat out angelic like the title claims.
Not only did Ariana Grande write "raindrops (an angel cried)" as a movement for women of all backgrounds, she also wrote it as a tribute in response to the fatal Manchester bombing earlier this year in England. The song on her album named, "get well soon" which is five minutes and 22 seconds to commemorate the date that the horrible event occurred. There were also 22 fatalities from the bombing. She wanted her fans to know that she stood with them and supported them. Grande has always been transparent with her intentions with her lyrics. She stays personal within her songs making them authentic and expressive. Many artists use their music to insult fellow musicians, but Grande expresses herself with honesty and clarity. She is an icon for women all over the world. "Sweetener" is a prime example for how she carries herself and gives inspiration to her fans because of the intimacy and relatability of the lyrics.
About the Contributor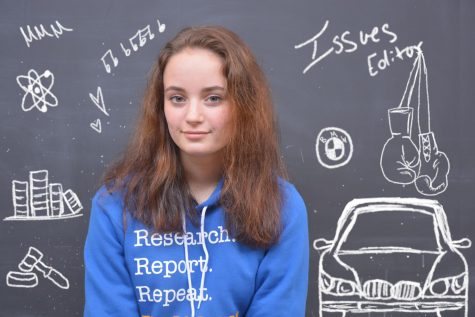 Meagan Massie, The Rubicon
Meagan Massie is the Issues editor on The Rubicon. This is her third year on staff. She is passionate about providing a diverse perspective on the way...