Girls Varsity Softball swings for the fences, merges with Nova
As they continue to rebuild, the softball team at St. Paul Academy and Summit School has been looking for recruits, hoping to find some fresh talent somewhere. Newly united with the small but spirited team from Nova Classical Academy, they thought that they would be set. Five players from Nova joined the team, but now only one remains.
"I am not going to quit," sophomore Sommer Skeps, Nova's only remaining softball player, said. Skeps made it onto the varsity team at St. Paul Academy and Summit School, becoming an outfielder, a catcher, and a friend to her new teammates.
Skeps isn't going anywhere, but she sees that her teammates from Nova had some valid reasons to leave. Transportation was never provided between Nova and SPA, so the players were tasked with finding a way to commute. "One of the girls quit because her parents wanted her siblings to have more opportunity to do other sports, so they couldn't drive her back and forth," Skeps said. "It hasn't really been that hard [for me to get to practice], my parents just take me."
Busy schedules can make it hard to find time for sports and school work, especially in sports with such hurried seasons as softball, when weeks with five games aren't uncommon. For Skeps, it is a manageably large commitment to be part of the team, as softball is her only sport and she isn't on any club teams. But for some Nova girls, it was a deal breaker.
"I know one of the girls from Nova was on a travelling softball team and a travelling volleyball team, and she was really worried about her homework load," freshman Emily Dieperink said.
These players joined during a season when their talent was needed, and losing them has some members of the team worried about how they will manage. "It would have been helpful if some of the other girls hadn't quit because we would've had more numbers, so I wish they hadn't," senior co-captain Alex Miller said.
The consensus among the players is that their biggest concern is having a scant three pitchers between the varsity and junior varsity teams, which has meant that players have had to leave the positions that they have had in the past and try to pitch.
"I'm pitching this year for the first time, so that's kind of out of nowhere. I've been shortstop since freshman year… We don't have many pitchers," Miller said.
"Minimum you want two pitchers on each team because its too much stress on your arm and your body to be pitching every single game, every single day," sophomore Liza Bukingolts said.
Unfortunately, the Junior Varsity team only has one pitcher right now, and the Varsity team only has two, so that is exactly their situation. "The Nova pitcher quit, which is a very big shame because she was good," Bukingolts said.
But there is still hope.
There are 18 underclassmen and Middle Schoolers on the Varsity and Junior Varsity roster, compared to just four upperclassmen. With a team so young and so committed, who knows what they will accomplish in the years to come.
Dieperink joined the Junior Varsity team this year, and already loves being part of the team. "[Softball] seems really fun, and the team is really fun. Everybody is really nice and I just like the sport so far," Dieperink said.
"I'm looking forward to redeeming the team that we were last year. We weren't good, and we should've been," Miller said, "It's kind of scary that it's my last one [season], but I'm excited and I think we're going to be a lot better than last year."
There is still plenty of time left for this to become a successful season for the softball team, but at this point there have yet to be any winning games. The record stands at 0-0-2.
Leave a Comment
About the Contributors
Meghan Joyce, Chief Visual Editor
Meghan Joyce serves as the Chief Visual Editor for The Rubicon. Meghan is a senior at St. Paul Academy and Summit School, and this is her third year...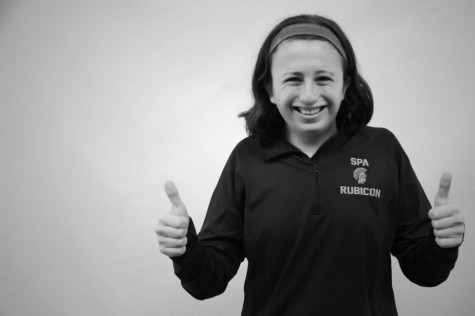 Catherine Braman, Online Editor-in-Chief
Catherine Braman is a Junior at St. Paul Academy and Summit School. Catherine served as Online EIC for first semester 2014 and was a co-Sports Editor...