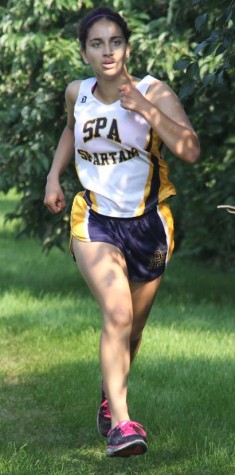 The girls dedication to each other already seems to be paying off; the team placed first in their Sept. 2 meet against Highland Park Senior High and Cretin Derham Hall at the University of St. Kate's. "People are always cheering everyone else on, even if it's just during workouts," junior Nora Kempainen said. "Everybody supports one another no matter what level the runners are at," she added.
Leadership for the team includes senior captains Lexi Hilton and Hallie Sogin with Head Coach Rob Donnelly. Without the team's previous lead runner and all state award winner Mary Naas, who graduated last year, everyone is stepping up to fill her shoes. "We've all been running harder because we want [to make it to state] so much," Hilton said.
Their next meet is on Oct. 3 at 3:30pm at the Swain Invitational. "Cross country is fun to watch because we run past twice and it only lasts about 20 minutes," Hilton said.
While the cross country girls are working hard to prepare for their meets, they believe their biggest challenge has yet to come: "We have made it [to State] the past two years and have a really good chance again this year," Hart said.