For Jones, SPA education secured success working globally
From Minnesota to Indonesia, to Peru and to Lesotho, alumna Melissa Schumi Jones ('97) has a lot to say about international affairs. But she credits much of her career success from her education at SPA.
Jones, an SPA  lifer, visited students on Oct. 30 to share her experience working in the United States State Department. Jones gave students a glimpse into her work during a Tutorial presentation in the Huss Center. In the presentation, Jones provided students with her experiences, giving insight on unique ways to serve our country and help the world.
"
I am able to connect with people because of what I was taught here"
Jones introduced her speech by showing the audience a photograph of herself in the 5th grade. While grinning, she showed off how she was in fifth grade with Melvin Carter who is now the mayor of St. Paul. She then moved on to talk about how the education she gained from St. Paul Academy and Summit School has aided in her career ever since she graduated in 1997. Jones moved on to cover her life in the U.S. Department of State where she was able to travel the world.
"The category I fall under promotes U.S. interest and protects U.S. citizens at consulates and embassies overseas," Jones said.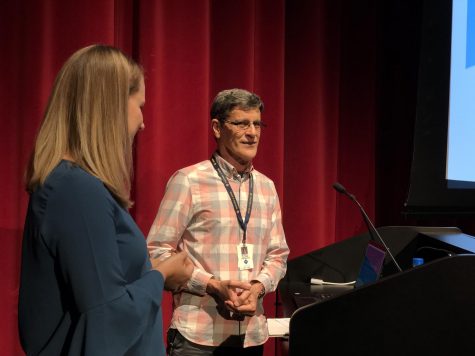 Throughout Jones's career, she found herself falling back on her SPA education. She said that her writing intensive classes help give her an edge over others and allowed her to excel when writing was necessary. She recounted an experience during her two years spent in the Bureau of African Affairs at the Department of State.
"I had a really cool job, I was the speechwriter for the Bureau of African Affairs. I helped write speeches for the lead diplomat of Africa who gave policy speeches and traveled across the continent," said Jones
Jones concluded her presentation by stressing the importance of SPA and, more specifically, the necessity of learning different languages to help understand other cultures and people.  Specifically how language pulled her into this career and continues to make it one she loves.
"I love languages and I love the process of learning languages. You can speak to someone over email or whatever, but when you can speak to someone in their language and learn their story, history, and the context of where they came from it fosters a more personal connection. I am able to connect with people because of what I was taught here," Jones said.
Jones invited any students who are interested in foreign affairs and government to explore options in interning for the State Department or consider studying abroad in college.