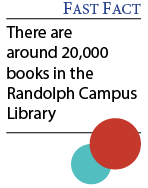 As the days get warmer, the snow begins to melt, and the school year nears closer to an end, students and faculty at St. Paul Academy and Summit School begin to pick up new books for their own enjoyment.
Upper School librarian Kate Brooks recommends The Obsidian Blade by Pete Hautman to those who desire a fun springtime read apart from assigned readings.
"It's a science fiction style book which plays around with time travel and has a strong female protagonist," she said. Hautman brings up some strong questions about fundamentalist beliefs throughout the book.
The Obsidian Blade, is first in the Klaatu Diskos trilogy. "I have read the first two, and the third one has yet to come out," Brooks said
Starting a book in a series is a great way to spend spring break and thwart boredom. "One of my favorite series is the Percy Jackson series," junior Jonathan Trevathan said.
Trevathan enjoys books with strong plot lines and interesting characters with whom he can connect, as do most avid readers. Brooks tends to look farther than character and plot when picking a book to settle down with.
"Personally I look for language — [a] descriptive, creative use of language that's almost a bit poetic. I like it when I can't guess what is going to happen next or when there are these sort of surprises, like when the narrative feels a little bit unreliable," she said.
Brooks also recommends Huntress by Malinda Lo for springtime readers. "[Lo] is drawing from a lot of different traditional Asian stories to come up with a religious figure and a warrior figure. Both protagonists of Huntress are ladies. I like this one a lot because it has a fantasy element," Brooks said.
In terms of authors, Brooks recommends her favorites: James Baldwin and Jeanette Winterson. Stand-out works by these authors include Baldwin's Giovanni's Room and Winterson's The Passion. "Those are my standby books. They have [an] amazing use of words to create images," Brooks said.
Trevathan loves the author Dan Brown and, in particular, his bestselling books Angels and Demons and The Da Vinci Code. Centered around conspiracies within the Catholic Church, both are historical fiction mysteries that transport readers into old, occult, and unsettled controversies of the past.
If you enjoy the experience of being transported by a book through time and are interested in World War II, Brooks recommends Flygirl, a historical fiction novel by Sherri L. Smith.
"Its probably my favorite," Brooks said. The book's protagonist Ida Mae Jones is a black woman living during World War II when black women were not allowed to be pilots.
"Because she was so light skinned, she was able to pass for white. She does and this really helps examine the implications of [passing] for somebody, the real dangers but also the personal sacrifices, like her feeling of integrity and her own feeling of being separated from her culture," Brooks said.
If you enjoy history and appreciate the facts more than fiction, Upper School math teacher James McVeety recommends The Tiger by John Vaillant. "It's a great book in terms of natural history and culture," McVeety said.
McVeety, a lover of memoirs, history, biographies, and poetry, is currently reading Command and Control by Eric Schlosser. This book traces the management of America's nuclear arsenal. "It deals with a very telling episode called the 'Damascus Incident,'" he said. McVeety enjoys personal reading and is in a book club which has been around for about thirty-five years.
So, with book recommendations in mind, let yourself escape into one of the many intriguing worlds which live in books everywhere—it's good for you too.
Watch Upper School English teachers Haseena Hamzawala, Philip de Sa e Silva, and Lucy Polk talk about reading and their favorite books right here on RubicOnline.