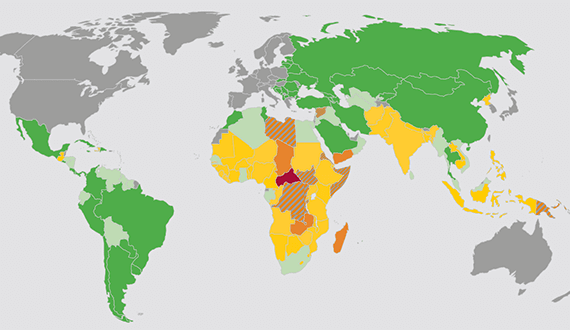 Global Hunger Index
Since its founding in 1987, Feed My Starving Children (FMSC), a Christain based non-profit organization, has helped provide food for people in need. Their mission statement is, "To feed God's starving children hungry in body and spirit." With over 1.3 million volunteers across the United States in 2018 and 2019, 999,000 kids were fed for an entire year. The organization has grown over the past thirty years, expanding to Arizona, Texas, Illinois, and Minnesota, which has provided an opportunity for many. Through working with many different groups and organizations, Feed My Starving Children has been able to impact the lives of those beyond the recipients of the meals. 
Alyssa Burdett is the Eagan Facility's Site Manager and has worked with Feed My Starving Children for over six years. When Burdett finished college, she was looking for a part-time job and came across the opportunity at Feed My Starving Children. Burdett mentioned the range of people that come in and help but was able to convey her gratitude for all the help they receive. "The interactions with people are different every day," Burdett responded when being asked what her favorite part of the job is. 
Burdett is in charge of all part-time staff members that are at work under her. She is able to make sure everything runs smoothly and that everything is done right. When asked what takeaways she has from her daily work at FMSC, Burdett mentioned, "It's very humbling seeing the people who come in with open hearts. They are all here to help whether they are here by choice or not." Burdett has been able to observe many different groups with unique backgrounds and has noticed the same thing. People are willing to help no matter the reason for attending FMSC. 
Although Feed My Starving Children is a Christain-based organization, there are no requirements on who can volunteer or receive the food. When asked about the religious impact on FMSC, "It's not as big of a deal as you would think, we will help out whoever needs the help", Burdett mentioned. With FMSC bring a Christain-based organization whose mission is to feed God's starving children in body and spirit, they extend open arms to anyone willing to help the cause. When attending FMSC, there is very little connection to religion, besides their mission statement and bible verses that are referenced. When discussing the impact religion has on her daily work, Burdett mentioned, "We are all God's children, and it is our duty to serve those in need." 
Effectiveness is a key factor for FMSC. Each meal costs under 25 cents to produce, and 88 dollars is enough money to feed a child for an entire year. Feed My Starving Children has a 99.8% success rate of their meals reaching their intended location, which provides many with peace of mind knowing their work is paying off. Junior Alek Radsan who has attended FMSC in the past, shared his experience. "It is really well organized there so it's no wonder they have such a high success rate," Radsan mentioned after being read their success rate. Without the help of the volunteers, none of their work would be possible. 
Feed My Starving Children has continued to expand across the United States with many temporary sites, which has provided them with the ability to provide meals in over 100 countries since 2009. Their meal packs have been distributed in North America, South America, Europe, Africa, and Asia, covering the entire globe. FMSC has been able to make strides in the fight to end world hunger, which is why the organization has so many dedicated members.