Boese shares his hopes for lunches in the future
Born in St. Paul and raised in Mankato, SPA's new executive chef, Stephen Boese, has been a part of the culinary world for all his life. At home, his grandfather was a gourmet cook, and his father — a college professor — taught night courses for French cooking on the side. Boese himself entered the culinary world at age 15 when he started washing dishes. When asked if being a chef was his dream job, Boese said: "I've always been exposed to upscale, good quality food and just have a love for it — I kind of fell into the career as well."
Before joining the SPA Community on Sept. 30, 2019, Boese was a chef at Mounds Park Academy for 10 years. He also has years of experience in restaurants and other cooking scenes.
So far, Boese is loving the SPA Community.
"You guys — the kids, the students — are awesome […] Just the atmosphere is awesome here and so professional and friendly," Boese said.
Also, as an example of the helpful SPA community that he has witnessed thus far, Boese cited an experience when a student helped him move a plate rack that he was struggling with.
As the new chef on the block, Boese is excited to share his new menu, which kicked off on Oct. 7. He is also striving to provide more options so that everyone in the community can find something tasty to eat, no matter their diet.
"We're doing a complete vegetarian entree or vegan entree every single day […] and you'll notice everyday that the [slide] is full of food," Boese said.
Additionally, after some observation of the long lines that have plagued lunchtime, Boese quickly realized that a change needed to be made, so he opened two serving lines to serve students more quickly.
"
You guys — the kids, the students — are awesome […] Just the atmosphere is awesome here and so professional and friendly."
— Chef Boese
Boese says that his driving force is "to keep [the students] saying 'wow' or 'oh that's good'" while also exposing the community to new foods, such as paneer cheese or romanesco cauliflower. He also provided a sneak peak of what to expect in his new menu, including some creativity with ancient grains, tofu, and Indian food. Additionally, Boese realizes the importance of fresh ingredients.
"We're going to be using a lot of fresh ginger, fresh turmeric root, things like that, so we're kind of kicking the herbs and everything up to a fresher level as well as presentation," he said.
Also noting the importance of student input in the lunch menu, he said, "I would love to see a student committee, and maybe help/come sit on your meetings or anything like that, so very open and willing to hear what you guys want, what you're looking for."
Chef Boese has five children and five grandchildren, so he isn't new to the family business and feeding young, hungry mouths. You can most often find him working the line during lunch at the Randolph Campus. He loves engaging with the community and hearing from students, and he wants student to know: don't hesitate to say "hello" or "thank you" to him and the lunch staff who make the lunch period possible.
Leave a Comment
About the Writer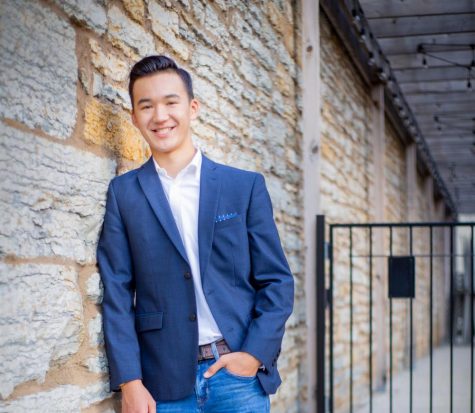 Nikolas Liepins, Political Correspondent/Contributor
Nikolas Liepins is the Political Correspondent and a writer/(photo)journalist for The Rubicon, RubicOnline, and Ibid Yearbook. This is his second year...