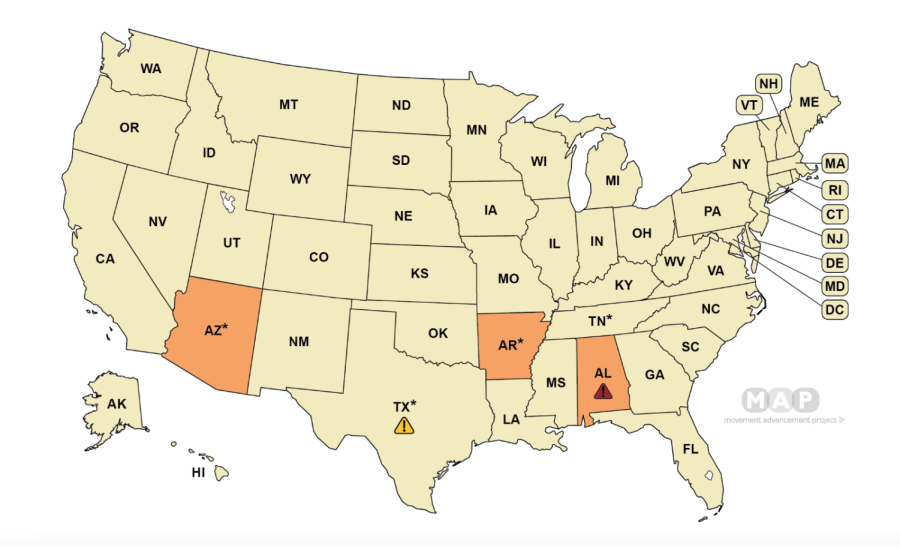 Reprinted with Permission: Movement Advancement Project
Everyone has the right to be comfortable in their own body. That statement seems obvious but sadly the reality is that there are laws being passed in several states that are infringing upon that right.
The right to be able to change something about your body in order to feel more confident is something everyone should be able to do at any time. Unfortunately, this is not the case. A report from the Williams Institute at UCLA school of law estimates that due to the government's laws, an estimated 58,000 kids and young adults across 15 states have a possibility of losing access to gender-affirming care. Not only are many states denying access to medical care, but they are also calling it abuse if a parent allows their child to get gender-affirming care.
Kids should feel comfortable speaking up about their wants and needs for their own bodies. These laws are discouraging for the future of transgender kids and adults. Being able to change something about your body is a human right. Denying kids and adults of this right is doing a lot more harm than good. According to a study done by Cornell University, when there are positive outcomes of gender transition and related medical treatments, transgender individuals have improved quality of life, greater relationship satisfaction, higher self-esteem and confidence, and reductions in anxiety, depression, suicide rates, and drug use.
All of those outcomes though are after the individual has had the right to choose what they want to do with their body. The opposite effect of those outcomes occurs when someone is denied access to gender-affirming care. According to the 2015 U.S. Transgender Survey (USTS), 81.7 percent of transgender people who took the survey have seriously considered suicide and 40 percent have attempted suicide in their life. These are astonishingly high numbers and extremely scary. With access and laws allowing gender-affirming care, these numbers can and will go down.