Every(man) examines the themes of life
US Theater Director Eric Severson announced the cast for the fall play on Monday.
Every(man), a classic fifteenth century morality tale with a modern twist was selected for a multitude of reasons, but it's largely due to the self-reflection that the play's content induces in its audience. Every(man) deals with themes of life and death, as well as looking at how humans treat each other and the world that we live in.
"The premise is that Death is following every man, and every man is attempting to find anyone to go with them to make their reckoning before god. The kind of overarching theme is getting us to look at our lives, and ideally to look at our lives before we get to the end of life to think about the choices that we've made. What was once church propaganda and had been incredibly religious, Carol Ann Duffy [the play's adaptor] has with this new adaptation created a really poetic work but something that is also a lot more secular and is looking at and exploring the myopic materialism that we have as a world right now, how we treat mistreat ourselves and others as well as the environment," Severson said.
"
The kind of overarching theme is getting us to look at our lives, and ideally to look at our lives before we get to the end of life to think about the choices that we've made."
— Eric Severson
Every(man) is also unique because its characters do not take the form of regular humans, and are instead specific traits that the actors have to embody.  
"All of the characters are allegorical, so the characters are 'everyman' and 'everyman' doesn't have to be gendered as a man, though in its original inception it was but it doesn't have to be. God, Death, Knowledge, Good Deeds, Beauty, Strength…all of these things are different characters. To me it's going to be a really exciting and fun way to approach it with the student performers and really thinking, how do you create a character out of an idea?" he said.
Another reason for choosing to the play has to do with how well it fits with past Fall Play selections. Severson attempts to create a mix of different types of play, andEvery(man) is unique in that it is both classic and contemporary in its own way.
"Every(man) to me adds another piece of that. It's an adaptation of classic literary text. I just think of where we are as a world right now and the students that I will actively work with in the theater department are often very vocal about things that they are frustrated about in our world, and the connection to how we treat the environment and how we treat each other and a little self reflective stuff that I see within this text I think particularly the seniors but also the sophomores and juniors and freshman will rally around that," he said.
Severson hopes that the compelling content of this year's play will draw big audience. The Fall Play performs Nov. 16 and 17 in the Huss Center for the Performing Arts.
Every(man) Cast list
*Every(man) – Max Moen, Elise Parsons
God/Good Deeds – Gemma Yoo
Death –  Ben Atmore
Fellowship – Chloe Morse
Knowledge – Ethan Asis
Sister – Nitya Thakkar
Mother – Savita Avasthi-Yopp
Father – Henry Vlietstra
Goods – Rachael Johnson
Every(boy) – Val Chafee
Senses & Wits:
Strength/Weather Reporter – Tina Wilkens
Beauty/Weather Reporter – Peter Michel
Sound/Weather Reporter – Isobel Alm
Sight/Weather Reporter – Maren Ostrem
Touch/Weather Reporter – Nathan Forsberg
Taste/Weather Reporter – Anja Trierweiler
Smell/Goods Ensemble – Evelyn Lillemoe
Vanity/Goods Ensemble – Gavin Kimmel
Discretion/Goods Ensemble – Adrienne Gaylord
Insecurity/Goods Ensemble – Gracie Tilney-Kaemer
Passion/Goods Ensemble – Grace Krasny
Pleasure/Goods Ensemble – Rylan Hefner
Ensemble: Davyd Barchuk, Annika Brelsford, Spencer Burris-Brown, Ellie Dawson-Moore, Rebecca Ebert, Olivia Fenlon, Sevy Hayes, Per Johnson, Jay Jones, Caroline Menard, Griffin Moore, Ellie Murphy, Eleanor Smith , Sam Zelazo
About the Contributor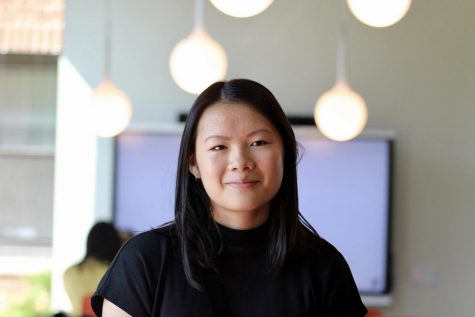 Kat St. Martin-Norburg, Opinions Editor
Kat St. Martin-Norburg is a senior and is excited for her third year on staff. This year she is the Opinions Editor and looks forward to taking the Opinions...