Distanced learning prompts student cooking
With distance learning becoming everyone's new reality, making lunch and cooking has too. Students are no longer reliant upon the nourishing school lunches the school provides. They have to make and prepare their own meals for the 30 minute lunch period in the middle of the school day. 30 minutes isn't a ton of time to prepare food but many students have go-to quick and easy meals for their lunches every day.
Senior Olivia Lagos said, "I don't even have enough to make lunch most days, but when I do I normally make pasta or sandwiches. I really like making these dishes because they're really quick and easy to cook up and eat in the 30 minutes we have for lunch."
Many students have negative feelings towards the short amount of time given for the lunch period. In the midst of a long school day, many argue that 30 minutes isn't enough time to prepare, cook and eat a sufficient lunch while also taking a break. Despite this, students have adapted their meals and time management skills to make and eat a fulfilling and tasty lunch.
Sophomore Greta Magnuson said, "I don't make lunch very often because there's not a lot of time. If I do, normally I make microwave meals or turkey sandwiches because they're quick and easy."
Senior Senai Assefa mentions another method of having a good lunch during the short lunch period. He said, "My mom usually makes a whole bunch of food for the rest of the week. And [my brother] and I ration it out every day of the week which is really nice. If we run out we usually try to make our own food with whatever we find around the house."
"
I don't always eat lunch at the designated time. But now that teachers let us out 20 minutes early I have actually been eating lunch during the lunch period."
— junior Cooper McKinnon
With the new tutorial times added to the end of many online classes students have more time to take a break from their screen and/or make themselves some lunch. Though many teachers require their students to work during these tutorial times, some allow students to take a break. This extra time may be helpful for cooking and preparing sufficient lunch meals for many students to ensure they are eating enough food and retaining fuel for the long and difficult school day.
Junior Cooper McKinnon said, "I don't always eat lunch at the designated time. But now that teachers let us out 20 minutes early I have actually been eating lunch during the lunch period. The most common thing I eat is peanut butter and jelly sandwiches and you can find me with a huge tub of cheese balls."
Eating a healthy and nourishing lunch can be very beneficial for students. According to Options for Youth, a good meal can be linked to "higher grades, better memory and alertness, and faster information processing". Students and faculty have had to adapt to making their own lunches every day at home with distance learning. Everyone has their different go-to quick and easy meals they make for lunch every day to refuel during the long and tough school day.
Leave a Comment
About the Contributors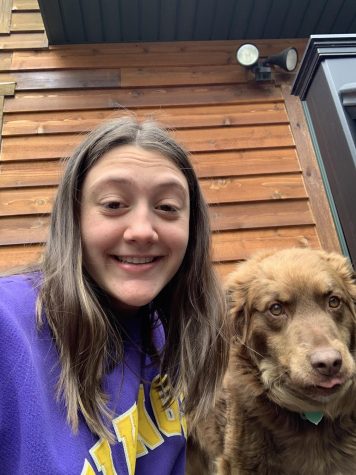 Annika Rock, News Editor
Annika Rock is a News Editor at RubicOnline. This is her second year on staff. During quarantine, she has been taken daily walks around her neighborhood...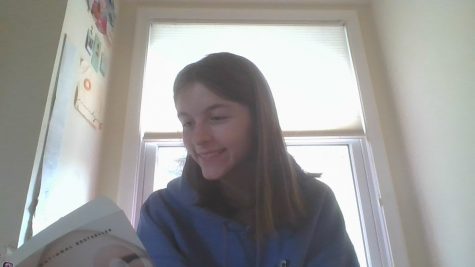 Lynn Reynolds, Opinion Editor
Lynn is the Opinion Editor on RubicOnline. This is her third year on staff. Lynn has kept herself busy during the pandemic by reading and biking a lot....