Decreasing student debt is an essential step in reversing systemic racism
As 2021 comes to a close, student debt is on the minds of approximately 45 million Americans. On February 1, 2022, federal student loans payments will resume after nearly two years. A survey from the Student Debt Crisis Center found that 89% of fully-employed federal student loan borrowers do not feel financially secure enough to begin paying. 21% of respondents said that they would never be prepared to resume payments.
"
tudent loans were not made to give Black Americans financial freedom, and report having their quality of life disrupted by the burden of debt. "
It's clear that when it comes to student debt, the US is in it deep: approximately $1.7 trillion. Some politicians such as Sen. Elizabeth Warren are pushing President Biden to cancel $50,000 of student debt per borrower. Those who oppose this plan, (including Biden, who supports only $10,000 of cancellation per borrower), argue about the logistics of it. There's also debate over whether Biden can enact mass cancellation through an executive order. I believe the best approach is canceling $10,000 per borrower. Many economists argue it would help those struggling the most. These are people who likely started at community college and have less earning power, making them more likely to go into default.
Canceling $10,000 in student loans isn't just a matter of what's fair economically. According to a report released by The Education Trust of nearly 1,300 Black borrowers, many respondents believed that student loans were not made to give Black Americans financial freedom, and report having their quality of life disrupted by the burden of debt. For many Black Americans, student loans will never become something that eventually helps them generate more income. Instead, these loans become a lifetime sentence, putting them behind their white counterparts and potentially causing more debt in the future. A study from Brandeis Institution reported that 20 years into repayment, a typical Black borrower still owed 95% of their debt, while their white counterpart only owed 6%. And according to the same report from The Education Trust, Black men and women with bachelor's degrees made significantly less than their white counterparts with the same level of education in 2018.
The student loan crisis is a social justice issue. Canceling $10,000 is an essential step in reversing the systemic racism that has prevented Black Americans from getting ahead in life. And due to the economic recession and unemployment caused by COVID-19, which has disproportionately affected communities of color, cancellation needs to happen now more than ever.
Leave a Comment
About the Writer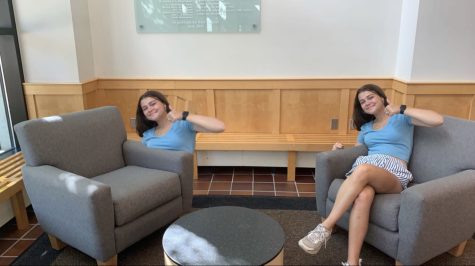 Johanna Pierach, Good Question Editor
Hi, I'm Johanna Pierach (she/her), The Rubicon's Good Question editor for the 22-23 school year. This is my second year on staff, and last year I worked...