[MOVIE REVIEW] Death on the Nile puts a fresh spin on an old classic
Gorgeous, transporting visuals. Old-fashioned flair. A deadly web of love, lies, and money. Death on the Nile is a cinematic experience sure to send murder-mystery fans and newcomers alike racing to answer the infamous question: whodunit?
Released in theaters on Feb. 11, 2022 (and available on Hulu today), Death on the Nile comes as the sequel to 2017's Murder on the Orient Express, both directed by Kenneth Branagh. These films are based on the wildly popular novels of the same name by renowned mystery writer Agatha Christie. In Death on the Nile, Branagh returns to star as charismatic, mustache-toting Belgian detective Hercule Poirot, a recurring character within Christie's novels. Familiar to fans yet mysterious in his own right, bits of Poirot's backstory come to light in the first scene as his unique observational skills save much of his Belgian squadron during World War I. Still, an explosion mutilates his face (hence the mustache). This flashback, though unnecessary, sets up the rest of the story nicely as it centers heavily on him. The theatrical feel of the scene implores viewers to root for this possibly unfamiliar character and gives returning fans the excitement of what they know will be another mystery.
Fast-forward to 1937, when Poirot returns a sort of celebrity, making his way through the flashes of cameras and shouts of reporters into the dark haze of a London nightclub. Inside, viewers are introduced to many new faces and invited to ponder their possible involvement in a still-unknown crime. There's sly-yet-charming Rosalie Otterbourne (Letitia Wright). She's the niece and manager of Salome Otterbourne (Sophie Okonedo), a jazz singer whose smokey voice alone is enough to fill the club's atmosphere. Impassioned lovers Jaqueline "Jackie" de Bellefort (Emma Mackey) and Simon Doyle (Armie Hammer) are engaged and dancing the night away. Enter wealthy heiress and "it girl" Linnet Ridgeway (Gal Gadot), stealing the spotlight in a silver dress, sleek bob haircut, and red lipstick. Those and more colorful characters are packed on Linnet's honeymoon yacht six weeks later.
"
Death on the Nile doesn't let down as a classic murder mystery, delivering all the beloved tropes of the genre."
At first, the pacing feels a little slow, given that the festivities remain relatively light. But the film manages to keep viewers hooked with occasional bits of tension, and treacherous sightseeing trips coupled with closed-door conversations work to suffice as the long buildup. The beautiful imagery in rich green and gold shades, though undoubtedly fake, serves its purpose as a one-way ticket to some of the world's scenic wonders. The music, composed by Patrick Doyle (who also wrote the piece for Murder on the Orient Express), fits all the plot points like a glove. From old-time tunes to fast-moving melodies, viewers' hearts are sure to be left beating in time with the suspenseful score.
When someone finally gets around to committing a crime, the story picks almost too hurriedly for the viewer to catch their breath. Poirot's seemingly crammed accusations overcomplicate a relatively simplistic plot, making the reveal a bit of a letdown. But it becomes clear that in what seemed like the duller moments, many clues and minor plot points (such as the color of a coat) would prove helpful later on. These hidden details make Death on the Nile a popcorn film one can return to many times, just for the fun of trying to catch them.
Death on the Nile doesn't let down as a classic murder mystery, delivering all the beloved tropes of the genre. There are fascinating, layered characters. There are can't-miss details that build up nail-biting suspense. There are jaw-dropping moments of realization famous for driving so many to the theater. And though the plot might be slightly predictable, it's hard to complain because the movie delivers as advertised, so it doesn't feel like a waste of time. Want a new yet already adored murder mystery containing all the common campy elements? Look no further.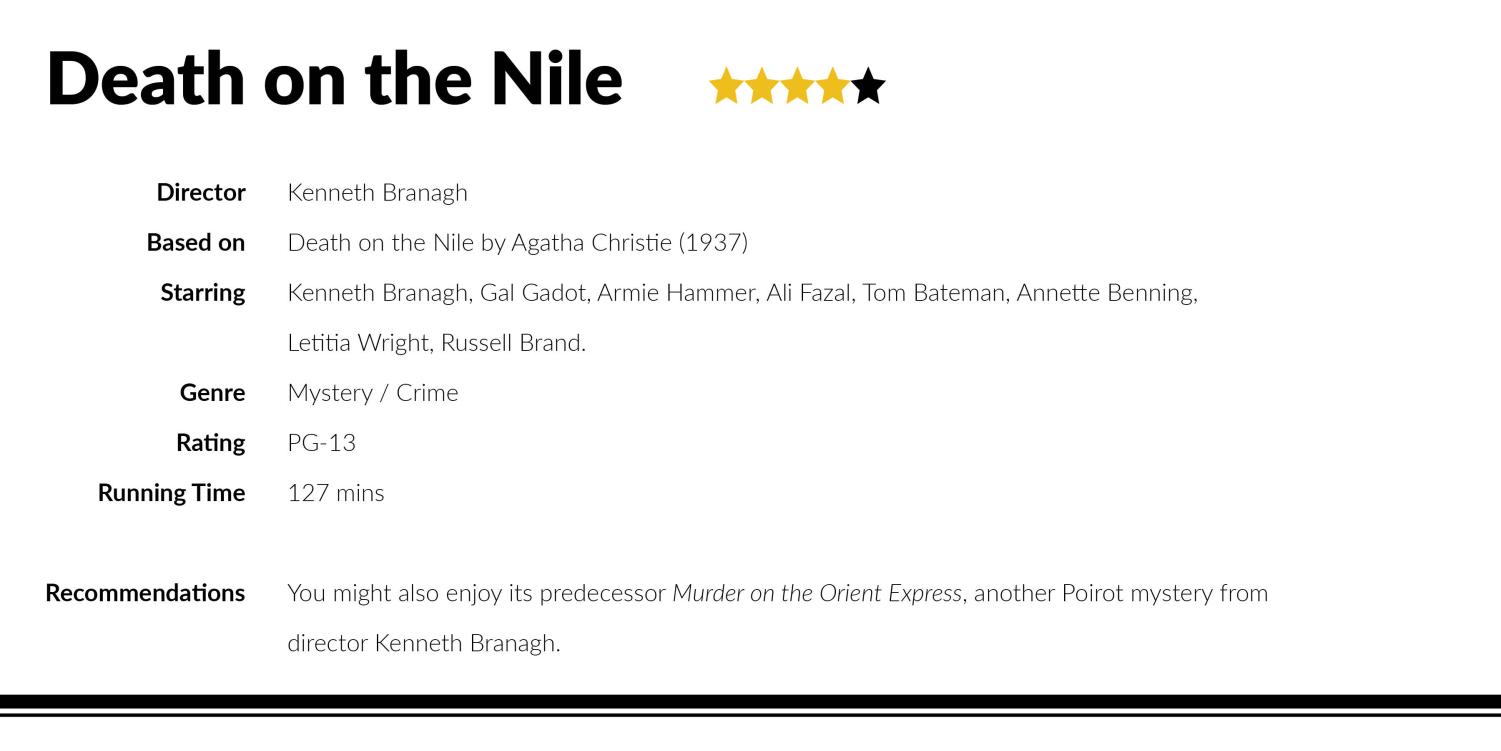 Leave a Comment
About the Contributor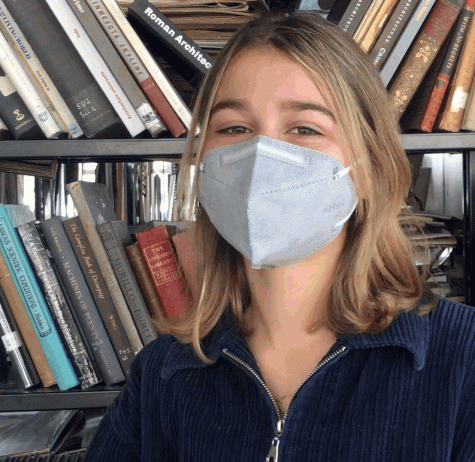 Johanna Pierach, Staff Writer
Johanna Pierach (she/her) is a first-year Staff Writer for The Rubicon. She loves early morning coffee, listening to vinyl records, and skiing after dark....