Seniors choose de Sa e Silva as featured faculty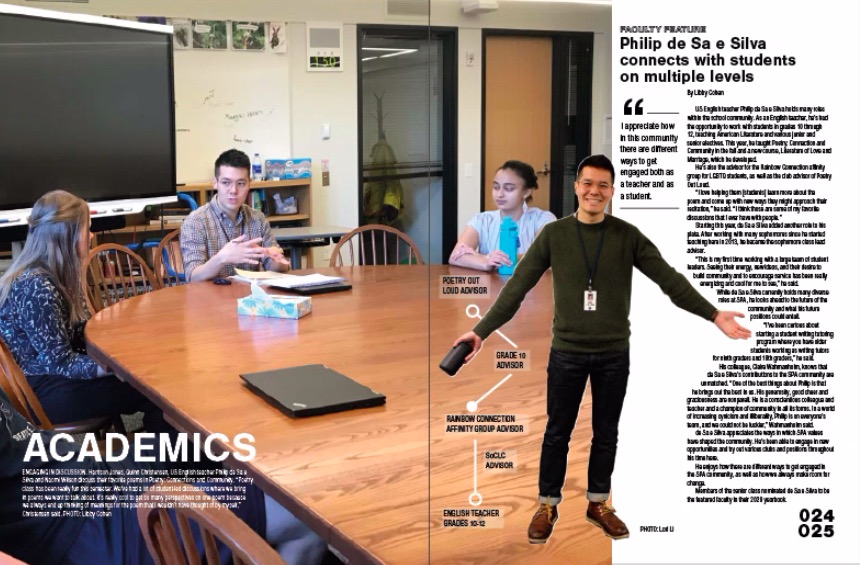 US English teacher Philip de Sa e Silva holds many roles within the school community. As an English teacher, he's had the opportunity to work with students in grades 10 through 12, teaching American Literature and various junior and senior electives. This year, he taught Poetry: Connection and Community in the fall and a new course, Literature of Love and Marriage, which he developed.
He's also the advisor for the Rainbow Connection affinity group for LGBTQ students, as well as the club advisor of Poetry Out Loud.
"
One of the best things about Philip is that he brings out the best in us."
— Claire Wahmanholm
"I love helping them [students] learn more about the poem and come up with new ways they might approach their recitation," he said. "I think those are some of my favorite discussions that I ever have with people."
Starting this year, de Sa e Silva added another role to his plate. After working with many sophomores since he started teaching here in 2013, he became the sophomore class lead advisor.
"This is my first time working with a large team of student leaders. Seeing their energy, new ideas, and their desire to build community and to encourage service has been really energizing and cool for me to see," he said.
While de Sa e Silva currently holds many diverse roles at SPA, he looks ahead to the future of the community and what his future positions could entail.
"I've been curious about starting a student writing tutoring program where you have older students working as writing tutors for ninth graders and 10th graders," he said.
His colleague, Claire Wahmanholm, knows that de Sa e Silva's contributions to the SPA community are unmatched. "One of the best things about Philip is that he brings out the best in us. His generosity, good cheer and graciousness are nonpareil. He is a conscientious colleague and teacher and a champion of community in all its forms. In a world of increasing cynicism and illiberality, Philip is on everyone's team, and we could not be luckier," Wahmanholm said.
de Sa e Silva appreciates the ways in which SPA values have shaped the community. He's been able to engage in new opportunities and try out various clubs and positions throughout his time here.
He enjoys how there are different ways to get engaged in the SPA community, as well as how we always make room for change.