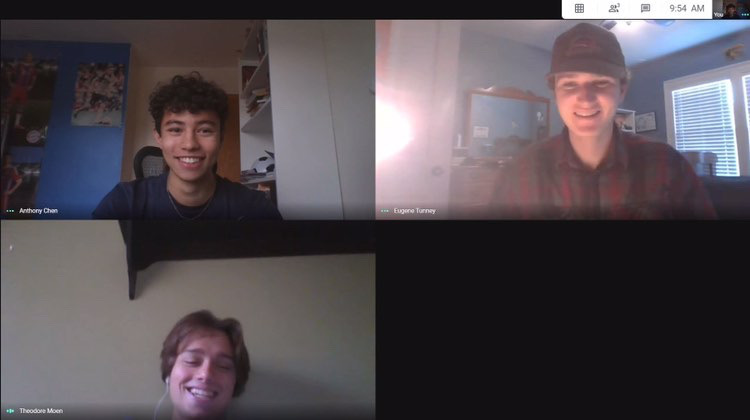 Submitted by Eugene Tunney
Once a week, the student-led clubs at Saint Paul Academy and Summit School come together for a meeting. SPA has many clubs and affinity groups, ranging from SADD (Students Against Destructive Decisions) to Business Club. The latter has historically been one of the most popular clubs, where students from grades nine through twelve come together to talk business, trade stocks, and exchange laughs. SADD, on the other hand, dedicates its time to helping the SPA community make better decisions. Historically, the club has taken service trips into the city, and they regularly participate in different forms of service-oriented activities.
However, similar to every other aspect of modern life, COVID-19 has hindered club meetings. Now, SPA club meetings take place on Friday, when the entire upper school is in distance learning. The classrooms once packed with chatter, snacks, and students are ghost towns. Instead, clubs gather virtually through Google Meets, where each member is confined to a small square on the screen.
Senior president of Business Club, Eugene Tunney, has been a part of the club for all four years of high school. Tunney touched on the idea of a large community at the Business Club, both historically and now, "In our heyday, we had over 70 members, however, we are down to 25ish nowadays […] regardless, the days of a packed classroom are over… for the foreseeable future, nonetheless."
The club mainly relies on a stock simulator called "Investopedia," where members trade stocks and compete with one another. "The core of our club has always felt somewhat virtual, however, the concept of face-to-face interaction is something that cannot be replicated. That aspect is something I miss dearly," Tunney said.
SADD, on the other hand, lacks this built-in virtual aspect of the club. Getting in touch with the community is best done through face-to-face interaction, so trying to continue this involvement with the community has been rough. "In the past, SADD has always been an active and engaging club and our meetings were really busy and vibrant. We would constantly brainstorm on the classroom whiteboards and share a snack," Senior co-president Sara Browne said. "The [club] dynamic has changed drastically. It's really hard to get a good brainstorm or just a discussion of ideas on a Google Meet because it's awkward," Browne added.
Being a community-oriented club, service is a big part of SADD. The club, historically, has participated in many different community service events. This year, however, that has changed, "I'm pretty confident that we won't be able to do any of the volunteer activities we've done in years past as club-sanctioned events at least. We're trying to be even more creative in coming up with activities we could do, possibly remove volunteering or just other ways we can help the greater community," Browne said.
Even though the members are forced to meet remotely via Google Meets, the club's leaders are determined to work past this, and not let this aspect define who they are.