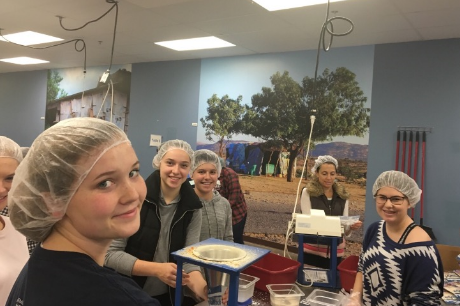 Community service is an important building block that rounds off the curriculum sophomore year at St. Paul Academy and Summit School. Remembering to give back to the community can sometimes be placed on the back burner as school work piles up and stress levels rise. The Sophomore Class Leadership Council is hoping to provide opportunities for sophomores who need to complete these service hours.
The first of these was on Oct. 15 at Feed My Starving Children, a non-profit organization that provides meals formatted for children experiencing malnutrition in other countries.
"FMSC relies on donations and volunteers to keep things running so we decided to help out" said SoCLC member Ethan Dincer.
SoCLC member Jennifer Verhey said, "We planned this trip to give sophomores opportunities to complete their service hours but also to have fun volunteering with their friends and classmates." 
The FMSC event in Eagan drew a turnout of 16 willing sophomores attending to help starving children in other countries. Sophomores packed 125 boxes of food (27,000 meals) which will feed 74 kids for an entire year.
"I was really excited when I heard about the FMSC event because I have been to a FMSC event before and I had fun while also feeling good about the work I was doing," sophomore Muriel Lang said.
Members of SoCLC plan to continue creating service opportunities for their class to make sure that sophomores have the opportunity to be involved in the community and set an example.
"SoCLC is dedicated to creating opportunities for sophomores to get out of the classroom and give back. Making sure that there are opportunities for everyone is just a small part that we can do to make sure that everyone has a great experience volunteering," SOCLC member, Mia Litman said.
SoCLC plans to keep these service opportunities going for the rest of the year after several successes including the St. Paul Bike classic and FMSC.  SoCLC decided on FMSC because it was a fun and easy way for members of the grade to come together and contribute to a good cause. SoCLC thinks that it is their job to help sophomores who are struggling to find how they want to volunteer their time and make sure that they find something they are interested in and possibly stick with an organization that they are interested in.
The next service opportunity for sophomores will take place at the Greenway bike path on Oct. 22.  Volunteers will be cleaning up the eastern portion of the trail from 10-12 p.m. Gloves and bags (as well as cookies and drinks) will be provided.