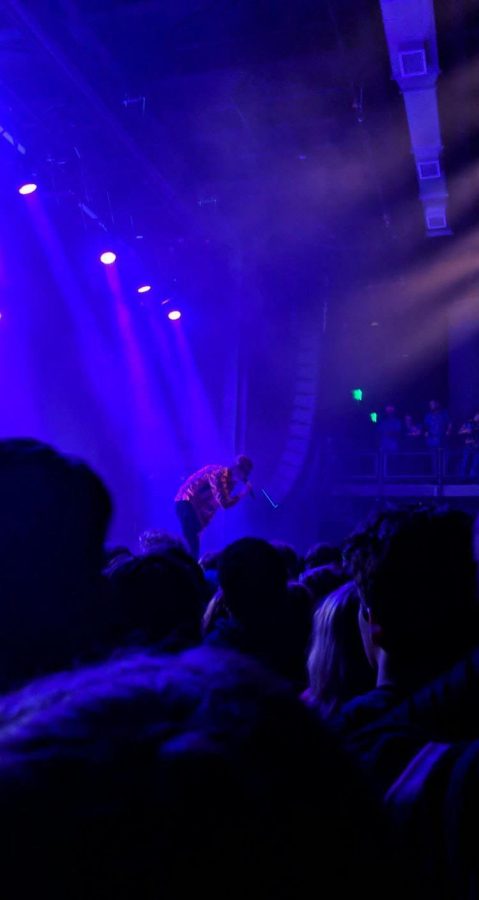 Submitted by Sam Rawdon
Nothing gets a youthful concert-going audience more excited than an annual performance from a local super-star. Yung Gravy's performance at The Filmore last Friday was no exception. The audience was filled with teens from around the Midwest, excited for Yung Gravy's first show in Minnesota this year.
Somewhat of a local superstar, Yung Gravy (Matt Hauri) was born in Rochester, MN. Mauri attended the University of Wisconsin and began rapping at parties. In the second half of his college career, he began to take rapping seriously and started to work towards becoming a professional musician. He attained this goal, Mainly through his success on the internet. Since college, Mauri has completed two North American tours. Despite his international success, Mauri returns frequently to Minnesota with sold-out shows for his hometown audience.
For many, Yung Gravy's appeal has a lot to do with his local origins. He was a counselor at local YMCA Camp Olson, and many feel a special connection to his music because of his local roots.
View this post on Instagram
Sophomore Zekiah Juliusson said "I really enjoy listening to Yung Gravy, in part because of his origins in the Twin Cities. It's cool to have an artist from Minnesota reach the level of success that he has."
Sophomore Sam Rawdon also attended the concert. "The whole concert was a great experience. I was really excited to see Yung Gravy live. Everybody was super hyped to watch him… overall it was a super great experience."
Rawdon's excitement was certainly shown in the rest of the crowd. Starting with an opening set from the local DJ Tiiiiiiiiip, the enthusiasm never stopped. The stage design was elegant, with artfully created digital graphics and lighting design to match the mood of every song.
Overall, the concert was an enjoyable experience for most and appealed to Yung Gravy's original audience: Minnesotans. At the end of the night, Yung Gravy promised to return to Minneapolis next year and without a doubt, his ever-growing fan base will continue to stay strongest in his hometown of the Twin Cities.