Community Service Spotlight: Verhey sisters give gift of dance
Jennie and Allie Verhey teach dance to youth while staying close to home
Submitted Video: Jennie Verhey
Children laughing, feet moving, faces grinning. While most students at St. Paul Academy and Summit School commit Saturdays to a multitude of activities and extracurriculars such as sports, music or other obligations, sisters junior Allie Verhey and sophomore Jennie Verhey spend their Saturdays differently than most. Each Saturday the Verheys volunteer at Dakota Woodlands where they offer dance lessons to youth.
Both Jennie and Allie have been dancing competitively for many years, enabling them to wholeheartedly offer their skills to children as well as offer a simple break in their often unsteady and complicated lives. These sisters began teaching dance lessons at Dakota Woodlands in 2015, although their family has been intertwined with the shelter for many years now. Located near their elementary school, volunteering at Dakota Woodlands contributes to the Verhey's specific community. Though the continual structure of the routines practiced contains similar ideologies, the fluctuations of dance skills taught varies depending on attendance and what the children would like to learn.
"The home is just a stopping point for people to stay while they secure a job or find a new place to live, so nobody is there for very long. And to be honest, I always hope that I don't see the same people because that means they were stable enough to move out, which is always nice to hear," Allie Verhey said.
"
It [dance] is a universal way to get moving and active without taking up too much space"
— sophomore Jennie Verhey
"Though we are there to focus on teaching the older kids actual dance moves, we tend to look after the younger ones giving their parents a break. After coordinating this program for a few years, I can easily state that it has almost nothing to do with the actual breakdown of the dance moves. There is no obligation for the kids to pick up on what we are teaching and the level of skill completely varies. I go each week to bring an activity that is fun and distracting to the kids who spend every day in the continuous limiting environment. We chose to teach dancing not only because we have experience and are trained in teaching through our dance studio, but because it is a universal way to get moving and active without taking up too much space," Jennie Verhey said.
This simplistic, hardly technical and subsequently conceptual grant of dance the Verheys provide carry an abundance of health benefits. Research has suggested that dance improves balance, provides interactive exercise and carries connotations of social interactions which are healthy.
Health benefits aside, dance continually provides a staple within the halls of Dakota Woodlands for children.
"The fact that it's such an easy thing to do, but makes the kids so excited to attend really drives my love for it. Some days when we arrive the kids coming running down the hallways because the class gives them a break from the reality of the responsibilities they have to carry to help out their family. They never asked to be put in those situations, and they are just kids, so they should be able to do fun things like taking a dance class, so I'm glad I get to help give them that," Allie Verhey said.  
"
The fact that it's such an easy thing to do, but makes the kids so excited to attend really drives my love for it"
— junior Allie Verhey
Extracurriculars such as dance or other activities such as music lessons are easily chosen and practiced with little appreciation. The Verhey sisters, with the opportunity to partake in competitive dance selflessly offer this privilege of dance lessons to children whose families aren't able to pay. Even further than the dancing aspect of their volunteer work, the Verhey sisters subsequently form lasting bonds with the children they teach. Dancing evokes fearlessness, silliness, and innocence to the youth at Dakota Woodlands who, outside the walls of their dance classes, face mature realities.
"It is completely rewarding in the sense of seeing them improve slightly at the dance steps, but more so with building a relationship with the kids there. Both us and the kids showing up each week to talk and become more comfortable with each other is more important than focusing on each step," Jennie Verhey said.
With the often unsteady circumstances these children and their families continually face, it is enlightening to witness volunteer work like that of Jennie and Allie Verhey who, both literally and figuratively provide balance in these children's lives. With a focus on dance and a narrative of volunteering close to home, the Verheys lead as an eloquent example of simplistic and fruitful engagement in volunteering.
"It doesn't matter where or what you do to give to the community, but it should be something that you enjoy doing and can see the impact of what your actions have. While I wouldn't discredit organizations that are more globally organized, I think it's important, and beneficial, to look at what needs help in the community around you because that work feels so much more rewarding. We all seem to be so blind to the people right in front of us that, while they are not starving like those in third world countries, could use help in situations that are important to them that need fixing for them to be successful, even if they aren't life threatening," Allie Verhey said.  
About the Contributor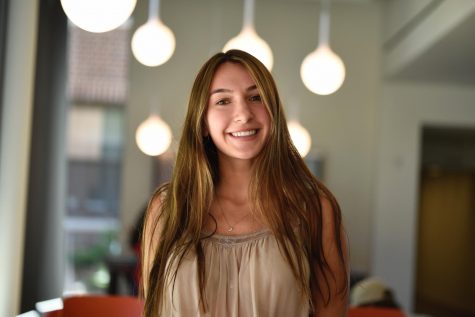 Mimi Geller, Director of RubicOnline
Mimi Geller is the Director of RubicOnline. This is her fourth year on staff. Mimi believes that high school journalism connects people by sharing their...