Community Service Spotlight: Reedy aids local hunger-relief efforts
Students' summers are often characterized by relaxing days by the pool, time with friends, and travel with family. However, for some students, the summer also provides an opportunity to make a difference in the local community. Sophomore Eliza Reedy will spend her summer at Second Harvest Heartland with her family and friends.
While Reedy began volunteering at Second Harvest Heartland to complete her sophomore service hours, she's planning on continuing her work this summer.
Second Harvest Heartland partners with organizations and volunteers to distribute food to hungry Minneapolis-Saint Paul children, families, and people.
"
It's very productive. You get so much done in only a couple of hours"
— Eliza Reedy
"Second Harvest takes leftover food from restaurants and farmers and other places and packages them and distributes them to food banks so they go to people," Reedy said.
Reedy appreciates the accessibility and convenience of volunteering at Second Harvest.
"It's very productive… You get so much done in only a couple of hours," she said.
Second Harvest accepts volunteers of any age, as long as young children have parental chaperones.
Reedy finds that the most gratifying aspect of her work at Second Harvest is the tangible change that volunteers can make. Second Harvest Heartland reaches working families, children, seniors, and struggling students across the nation. In the past year, Second Harvest has supplied 80 million meals to 532,000 people, according to their website.
"At the end of the volunteer shift they show a video of people talking… It talks about one woman wants to become a nurse and she has two children and she's talking about how much she loves her sons… That video makes everyone feel good about their work," she said.
About the Contributor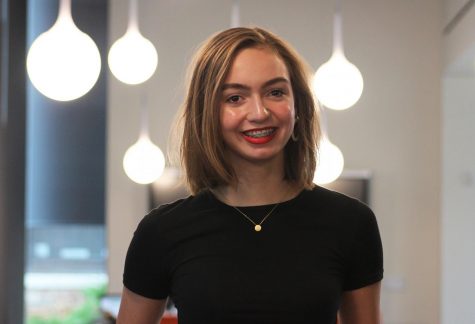 Lucy Sandeen, News Editor
Lucy Sandeen is The Rubicon's News Editor for the 2017-2018 school year. In her sophomore year, her love for writing, researching, and searching for...