Community Service Spotlight: Rahman welcomes all to volunteer
Routines can be very beneficial for someone's wellbeing, which is why sophomore Aman Rahman always has volunteering at the top of her to-do list. Rahman began volunteering at a Muslim food shelf at a young age, following in her parents' footsteps.
"Volunteering has been a big part of my life since I can remember. My parents would always take me with them whenever a food shelf would take place at my local Sunday School," Rahman said.
The food shelf that Rahman frequently volunteers at moved from Inver Groves Heights to Rosemount at the end of the last year, forcing Rahman to make the switch as well.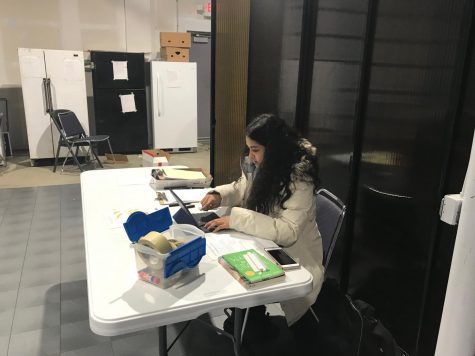 "I don't mind going to Rosemount now since I'm always looking forward to help at the food shelf. It [the food shelf] usually takes places the second Sunday of every month," Rahman said.
Due to the frequency of Rahman's visits to the food shelf, her jobs have changed over the years. Rahman began working behind the scenes as someone who helped pack and serve the food to anyone that needed it. Her current role is running the front desk.
"I started working the front desk because the previous person that did it graduated from high school so he was no longer there to help volunteer. It was a pretty easy transition because he taught me a lot before he left," Rahman said.
Working the front desk includes helping people check into the food shelf by getting their phone numbers, addresses, the number of people in their family, their income, and what months they have attended the food shelf. When Rahman is not checking people in, she is crunching numbers about how much food was donated and the amount given out to families, how many new people visited the food shelf each month, and the number of families that attended the food shelf.
Rahman typically works alone at the front desk, but she has brought along many other volunteers with her to the food shelf in the past.
"There's no one else working with me at the front desk, but a lot of my other family and friends come with me and help out in the back rooms," Rahman said.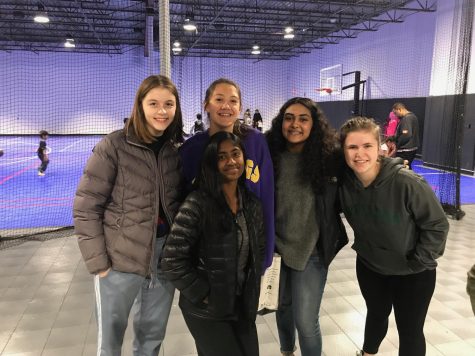 A sense of community has been created for Rahman by volunteering at the food shelf. She has met numerous people who have made an impact on her life, including a friend named Sheila.
"I always used to see a woman named Sheila who helped volunteer at the food shelf but also got food for herself. She was always so sweet and happy, and would constantly remind me to relax and be grateful, but unfortunately she passed away from cancer about two years ago," Rahman said.
"
Volunteering has truly changed my attitude towards life."
— Sophomore Aman Rahman
Rahman believes that volunteering at the food shelf for so many years has shaped her into the person she is today. When she volunteers she is constantly reminded of "the bubble" that she is accustomed to, and how volunteering can help her step out of her privileged mindset.
"Volunteering has truly changed my attitude towards life. It shows me how grateful I should be for the constant access I have to food and reminds me of the blessings I have and what I can do to help those her suffer from starvation," Rahman said.
Rahman's advice to anyone looking to volunteer is to find what is right for them and gets them excited.
"Volunteering should be a way for you to help out others who are less fortunate than you, and it should never feel like a burden. If it does, you obviously don't have the right mindset when volunteering, and something needs to change," Rahman said.
If you are interested in volunteering at the food shelf, contact [email protected] for more details about times and dates that are available.
About the Contributor
Annie Bottern, Social Media Manager
Annie Bottern is the Social Media Manager at RubicOnline. This is her third year on staff. She loves finding new facts about people while she interviews...