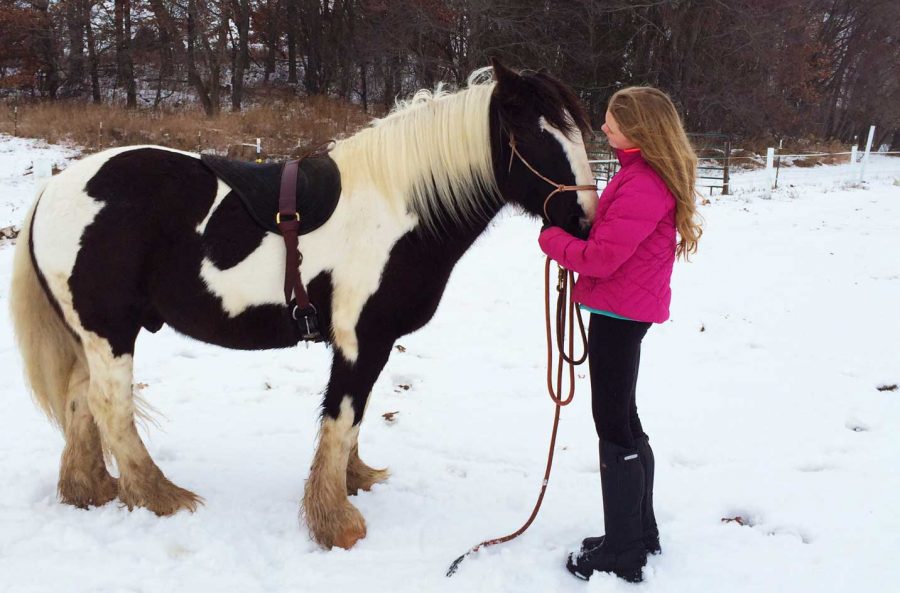 Submitted Photo: Isabel Dieperink
Horses, much like animals such as cats, dogs or fish, win over many children's hearts. Horses are treated as pets, used to compete in sport competitions, or to simply be a companion to any horse-loving person. In recent years, studies have explained that many humans experience a bidirectional "healing" sensation when nearing horses. Hearts posses electromagnetic fields that create radiated energy. These researchers have synthesized that horses have a logistical heart rate pattern due to their heart being five times larger than humans which ultimately means that because horse hearts have a larger electromagnetic field than humans, it is possible for them to be able to direct human heart rhythm. Additionally, horses not only aid in "feeling better," research suggests that horses offer many physiological benefits for humans such as lowering heart rate.
Whether horse lovers know it or not, their horse benefits their mind, health and stress levels. Horse riding patron and sophomore Isabel Dieperink utilized her horse knowledge and her interest in service to greater use this past summer. Dieperink spent many days at Lakeview Farm in Hugo, Minnesota to help young children who have anxiety or with an intellectual disability interact and learn the fearless joy of riding a horse.
"I decided to apprentice with my horse trainer before I was volunteering so it was helpful to me to see and really be able to work with horses thoroughly to be able to understand their signals, and I could help teach the kids how to recognize that too. Most kids make a really special connection with a horse, so we'd often use the same horse for each child every week. Knowing how to watch horses interact with humans and just watch how they signal was really helpful. Also to kind of look at my posture and how I sit in the saddle too ," Dieperink said.
On most days, these children Dieperink invested her time with often enjoyed simply being in their horse's presence, not all only sought to ride the horse. Typically, Dieperink's day at Lakeview Farm would begin with pampering and petting the horses, letting energy out with the children by running around, and giving tours of the stalls the horses occupy. Once a child felt ready to ride, Dieperink assisted with their horse riding skills and proficiency.
"We'd be at the barn and usually we'd start with a child who had down syndrome, and at the beginning he would ride my trainer's horse, but he would love to just run around and see everything, so we would show him the stalls which were on the other side of the barn. After a while of this we would ask him if he wanted to ride and then we'd put him on a horse and walk him up and down the road for a pretty good distance. We worked on his posture and sitting up to strengthen his core muscles because the nature of riding a horse is that you have to be able to keep yourself up," Dieperink said.
Throughout the summer and during the training and work Dieperink endured, she noticeably recognized the immense improvement the children underwent. Advancements in posture, strength and muscle were all evident after about a month.
"A child I started working with at the start of the summer began with his shoulders way down, he couldn't really hold his chest up. By the end after about a month he really improved. He was sitting up and started talking more. We helped him do arm stretch movements to work his upper body and balance, and he could completely balance on the horse by himself by the end of the month," Dieperink said.
"Sometimes we'd have to work with the kids through some difficult things, learning how to breathe, that sort of thing. Talking them through that and being more alert while watching for behaviors. Seeing when kids are having a hard time either at home or with a horse can be difficult and sad to watch," Dieperink said.
Difficulties aside, Dieperink continually reflects fondly upon her service experience, and the opportunity to balance and fulfill her passion with horses and children. Experiencing and witnessing a child's mental, physical and behavioral growth, along with their expanding understanding of horse technique proved itself to be unforgettable.
"It's really personal in a way. You definitely get to see how your work benefits people. It is a real time commitment, but it's really nice to have relationships with these kids too, they're really great and I think sometimes the world just judges them. It was really nice for me to get to know them too. We would treat them just like normal kids, and I think it was a nice time for them because they could just have that time to be with their horse. I saw so much improvement in them too. The ones who were struggling with emotional disorders were more happy and their muscles become stronger and they just feel good too, and you see that. It just makes you happy," Dieperink said.