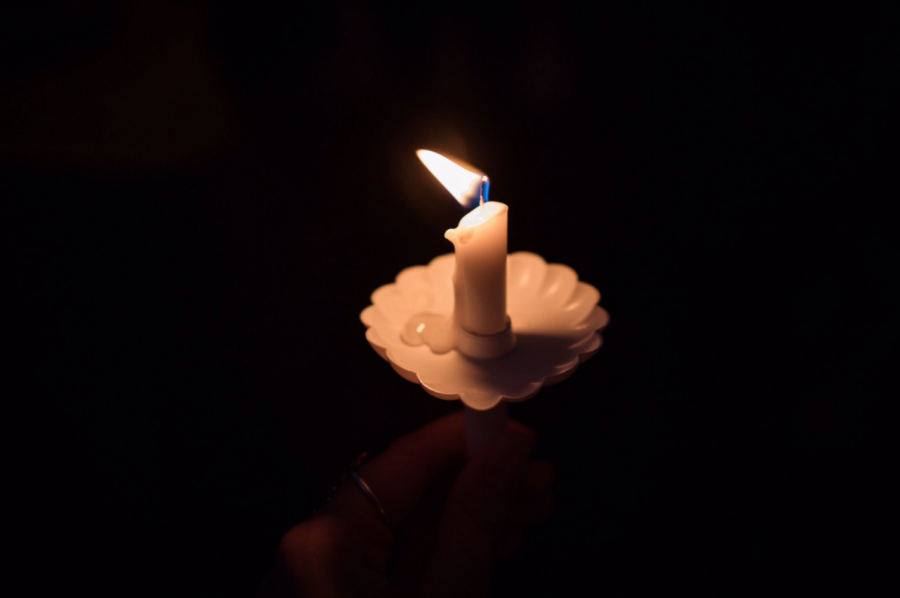 @delaneytarr on Twitter
Community mourns loss after Florida shooting, calls for action
February 21, 2018
After the horrific events that took place at Marjory Stoneman Douglas High on Feb. 14 in Florida, many people were left discussing gun control and how to prevent another mass shooting from happening ever again.
Social Media becomes the platform for change
The hashtag "NeverAgain" is flooding popular social media platforms including Twitter and Facebook as a way for people to share their hopes and desires that mass shootings will soon become a thing of the past. The hashtag was created to inspire those who seek to stop gun violence in schools.
#NeverAgain never again will this happen in Parkland. Never again will it happen anywhere. Never again. Join the movement. Be the movement.

— #NeverAgain (@NeverAgainMSD) February 16, 2018

In addition to #NeverAgain, students from Marjory Stoneman Douglas High are talking to media to ensure their voice will be heard throughout the country. In the midst of grieving for her classmates, Emma González, a senior at MSD, spoke to a crowd about stricter mental health background checks and laws that she believes need to change in return for better gun control. González continued by sharing her disbelief in the idea that giving people more guns will solve the problem: "They say that tougher gun laws do not decrease gun violence, we call BS! They say a good guy with a gun stops a bad guy with a gun, we call BS! They say that no laws would have been able to prevent the hundreds of senseless tragedies that have occurred, we call BS!"
The desire for change left after the shootings has even begun to alter some people's stance on owning a gun. Many people who legally own guns believe in their Second Amendment rights to own a gun, are taking up the challenge offered by the #oneless movement. After recent mass shootings, gun owners like Scott Pappalardo have begun weighing their options when thinking about owning a gun. Pappalardo enjoys shooting at targets but believes that other people's safety is more important than his personal entertainment. Pappalardo destroyed his AK15 to show his support for other's safety and stricter gun control laws, and to ensure that his gun could never be sold and used to hurt a human being.
National walkouts are planned for people who wish to see stricter gun control, but are not able to show their support in ways like González and Pappalardo have. Women's March has organized the #Enough walkout, encouraging participants to walk out of school for 17 minutes at 10 a.m. on Mar. 14 to show respect for the lives that were lost during the Florida shooting. "March For Our Lives" is a protest in Washington, D.C. on Mar. 24 to challenge current gun control laws. The Network for Public Education has planned another school walkout to take place on Apr. 20 to protest gun violence that has taken place in schools since Columbine in 2010.
Students express their thoughts after Florida school shooting
Many SPA students felt the strong and saddening impact of the recent Florida school.
"I felt really bad when I heard about the [Florida] shooting, but also empowered because a lot of teenagers were taking action which I think is a really good step in the right direction," junior Janie Brunell said.
Brunell believes that stronger action needs to be taken throughout the nation.
"It's really nice how everyone is coming together, both teenagers and adults, and hopefully the rise in awareness and joint efforts can lead to some new laws and action by the government," Brunell said.
"
Ultimately, though, I think you can control how people use their guns but I don't think the singular gun is the problem but the person using it."
— Thomas Bagnoli
President Donald Trump recently spoke about the Douglas High School shootings, mentioning that mental illness is a serious problem and ultimately responsible for the death of 17 students and faculty. 9th grader Liam Lynch disagrees with this viewpoint.
"I was immediately shocked to hear the news and was so grateful that it didn't happen in Minnesota, but I was stunned that another school shooting could occur and the legislature would do nothing about it. We can't just blame this on mental illness and wait for the next school shooting to happen. Mental illness didn't cause this guns did," Lynch said.
Sophomore Thomas Bagnoli believes that there needs to be a balance between gun regulation and the Second Amendment.
"Regulations on guns can always be harder and stricter, but I don't believe that making guns illegal will solve anything. I actually think that will make things worse, but I think that having stricter regulations on who can have guns and having better laws to protect those who don't have guns is necessary," Bagnoli said.
For Bagnoli, the aftermath of the shooting and the endeavors taken by the survivors is persuasive.
"People are talking about gun violence so much because it happens so much. I saw a video of some of the survivors calling out Senator Marco Rubio, one of Florida's senator, which I think was super powerful since the video was made by people deeply affected by this issue. Ultimately, though, I think you can control how people use their guns but I don't think the singular gun is the problem but the person using it," Bagnoli said.
Senior Jessica Citron believes that SPA students can further promote change in their communities by talking about the recent shootings and gun usage.
"
I think [the recent school shooting] is something that our school can come together on since it is a non-partisan issue that people are dying and that kids are getting shot. "
— Drew Fawcett
"Only one of my classes on Thursday discussed the shootings, but I remember in middle school after the Sandy Hook shootings we talked about it a lot more. There have already been 18 school shootings as of January first this year, and while talking might not bring back the lives of all those killed by guns, it can help prevent others from dying too," Citron said.
Senior Dorienne Hoven agrees with Citron, adding that the marches the survivors of the Douglas High School shooting are organizing can help pave the way to positive change.
"I think gun violence is a huge problem, especially that semi-automatic guns are so easy to purchase. I understand that some people like to hunt or have guns for safety, but at the end of the day is having a gun for personal pleasure really worth killing children and teachers? I'm looking forward to the upcoming marches because I think it's a good way to gain more attention," Hoven said.
For senior Drew Fawcett, gun violence is not a controversial issue and does not require debate.
"I think [the recent school shooting] is something that our school can come together on since it is a non-partisan issue that people are dying and that kids are getting shot. This is something that, no matter where you are on the political spectrum, no matter where your opinions lie, we should all agree that action needs to be taken. This is not a discussion we are having about if that should or should not happen. It comes to what should we do next," Fawcett said.