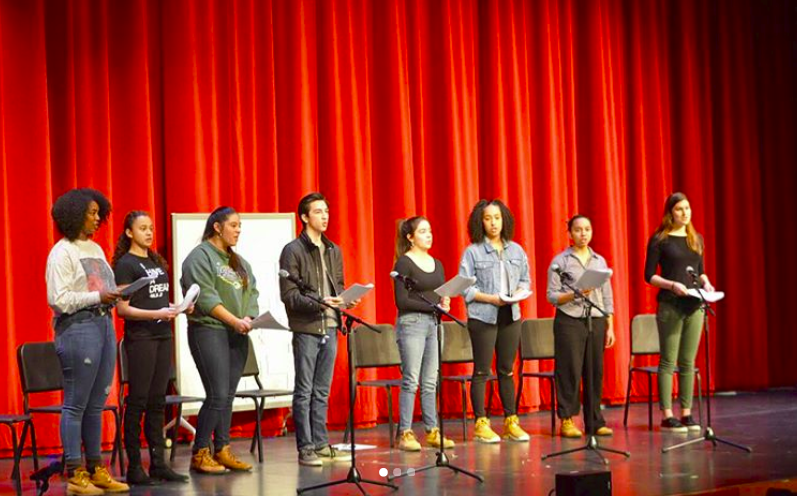 Ethan Dincer
Eight students stood on the Huss Center stage and raised their hands to claim their space. "Raise your hand when I call your name," echoed the group. On Tuesday, Apr. 17 during X-period, the student group Common Ground held an assembly with the intention of sharing their experiences inside of the walls of St. Paul Academy and Summit School.  Each student spent time speaking on the stage and giving insight into their experiences. They also talked about the story and identity behind their name.
"My name carries the pain and joy of my blackness," co-president Amina Smaller said.
The group moved from painful stereotypes and experiences to radical self-praise and acceptance.
"I had changed myself so I could fit in. Now I show my curls because that is something that is Arie," sophomore Arie Walker said.
Walker and the rest of the group touched upon the concept of claiming space.
"Say who you want to be not who others tell you to be," the entire group said.
The intimate details and pain that Common Ground shared aimed to illustrate that there is still a problem of non-racist behaviors which exist within the SPA community. The group defined non-racism as not being directly racist but not doing anything to stop the racist behavior that is seen. The group's performance highlighted that it is no longer good enough to say that "I disagree with racist ideas."
Co-president and senior Ava Garcia engraved this idea into the audience's heads.
"The goal of today's assembly is to share our experiences and have the audience listen. Now everyone can be held accountable and when the senior class leaves the community you will not be able to say that you didn't know. Be more anti-racist not non-racist," Garcia said.
The powerful performance was directed and co-scripted with the help of Penumbra theater company's Eric Shaw but featured common ground student's personal interactions.
"I want paragraphs and paragraphs to explain our story and how we take our differences in stride," junior Isabel Saavedra-Weis said.
Begining with a synchronized spoken word performance, and followed by an explanation of the performance the group ended with open mic questions and comments from the audience. When the audience opened up, words of positivity and praise flooded the Huss auditorium. Unity, struggle, strength, bravery, and power highlighted Common Ground's work.
On April 24, Common Ground will be handing out ribbons to promote intersectionality and to echo the messages of their presentation.