Column: Downsizing the military would bring financial benefits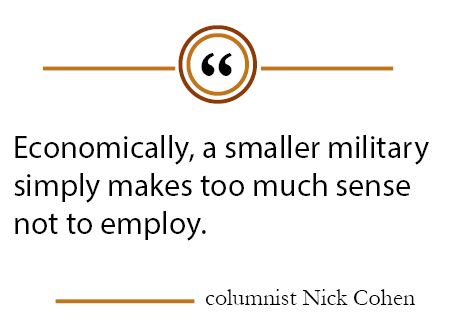 The Pentagon recently made an order to reduce the size of the United States military to pre-WWII levels, raising large-scale national debate on the role of the U.S. military in future conflicts worldwide. As it stands, the military is set to reduce from around 520,000 active members to somewhere between 400,000 and 440,000 personnel. This was done in direct response to Congressional appropriations that called for less funding for the military, although Defense Secretary Chuck Hagel warns that a smaller military will inhibit America's ability to respond to multiple aggressors at one time. This idea has gained some traction nationally, with people pining for a re-expansion of the military. Unfortunately for them, however, this argument is not enough to overcome the dire necessity of a smaller military.
Economically, a smaller military simply makes too much sense not to employ. For a nation already mired in debt, cutting our defense budget (which currently makes up about 57% of all spending) creates better economic solvency while giving fiscal flexibility, allowing the United States to either reduce the deficit, fund further military technology, or put funding towards new programs designed to help out other grossly underfunded federal programs. This last suggestion, in fact, seems like the best option in terms of what to do with the extra money saved by cutting some military spending. As it stands, education makes up only 6% of the federal budget, and energy and environmental research makes up only 3%, to name a few. The $75 billion saved from military spending (and consequently put into other government programs) would directly benefit citizens of the United States, much more so than keeping an artificially inflated military that is moving away from large-scale ground operations.
And that brings us to the second reason why a smaller military is beneficial in the world of today. The wars in Afghanistan and Iraq are all but, if not completely, over, and as troops return home, it becomes increasingly apparent that massive militaries are all but useless. The only situation where the United States would need a wartime-sized military is in precisely that: a war with a major world power (effectively, with either Russia or China). Neither of these situations is plausible in the near future, even with Russia and Ukraine on the brink of starting Europe's biggest war of the 21st Century. And even if America were to need a wartime military (which it won't), conscription levels could rise accordingly, solving the problem efficiently, effectively, and punctually.
Instead, the role of the American military should now shift towards protecting the vital interests of the United States while employing as much technology, and as little humans, as possible. Defense research will continue to occur (and rightfully so), providing our military with the newest technology in the market. As such, it is clear that large numbers of active troops is simply duplicitous and utterly unnecessary, only serving to waste taxpayer dollars and the time of American soldiers. The military reform we see is extremely beneficial, and should continue to trend towards downsizing in the future, with an emphasis on technology and peacekeeping over war-mongering and categorical international intervention. The benefits are simply too strong to ignore.
Leave a Comment
About the Contributor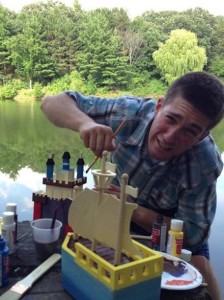 Nick Cohen, Columnist
Nick Cohen is a senior at Saint Paul Academy and Summit School. This is his second year as a columnist for the Rubicon. He enjoys playing baseball, guitar,...