Clap your hands and stomp your feet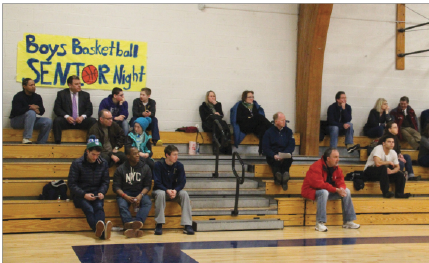 The clock is ticking as the scoreboard remains even in an overtime basketball game against a Spartan rival. Suddenly, the star center gets the ball, dribbles it to the opposing team's end. The teammates on the bench hold their breath as the center takes a shot. The ball goes in. The buzzer sounds. The Spartans get the win! The team goes ecstatic, and the crowd goes… silent.
At a typical Spartan sporting event, the crowd usually consists of only a couple die-hard fans.
It's no surprise to anyone in the student body that SPA has very low turnout at athletic events. Of all of the sports, boys basketball and hockey have the highest number of attendees, with a very large gap in fan presence after those two sports.
"Almost nobody goes to swim meets or fencing meets usually. It's sad," sophomore basketball player Kent Hanson said.
For sports like skiing, swimming, fencing and dance team, the low turnout can be attributed to the fact that the meets always take place off of campus. It tends to be easier for students to attend a home game than an away game.
However, even for those sports played on Spartan soil, the turnout is low relative to other sports. And those sports getting the most fans tend to be Boys Varsity sports.
"[Fan attendance] shouldn't be just based around guys sports. We need support at all games, even junior varsity and C-squad," freshman Geniveve Zanaska said.
It also seems that students who do not participate in athletics tend not to come to sporting events.
"When I go to athletic events, mostly all that I see is other athletes watching, in particular those who participate in the same sport," Director of Athletics Peter Sawkins said. "I am wondering why the non-athletes aren't there."
It seems that some students who don't play sports don't attend games because of a lack of interest in sports altogether. "I don't play any sports. I'm not very interested in sports generally, so I don't go to games. If a friend was in a game, then I would go," freshman Isabelle Bukovsan said.
The number of fans in attendance does depend on the circumstances surrounding that event. For example, the United Girls Varsity Hockey team, whose games don't typically draw a lot of fans, had an unusually large turnout out at the recent game against East Grand Forks during the girls Class A State Tournament. This can be attributed to the fact that the SPA fans were combined with students from both the Convent of the Visitation and St. Thomas Academy, as well as the excitement of seeing fellow students compete in the state tournament.
According to athletes, when there is a large fan section at games, it makes a difference.
"I think how many fans are there definitely affects the game. It's really energizing to have a lot of people there" sophomore Ryan Peacock, a basketball player, said.
Senior Danielle Socha, a Girls Varsity Soccer captain agrees: "For me, it doesn't really make a difference. But for a lot of people, it's important how many fans are there. You work really hard for athletics, and its nice to know that students at school recognize that," she said.
There are a number of students who make a point to attend sporting events. While these fans may not always be in the majority, they always seem to enjoy being there.
"I go to a lot of games," freshman Ella Matticks said. "I've gone to both Boys and Girls basketball games, Boys and Girls hockey games, Girls volleyball games, and Boys soccer games. School spirit is important and it helps the athletes to have a lot of fans. It's definitely the most fun when there is a lot of student support. You can see the athletes gain momentum from the crowd support," she said.
While athletics may not be an interest to everyone at SPA, it definitely wouldn't hurt for students to try to make it to a game every once in a while. The athletes definitely appreciate it, and a large fan crowd makes for a lot of fun.
Leave a Comment
About the Contributors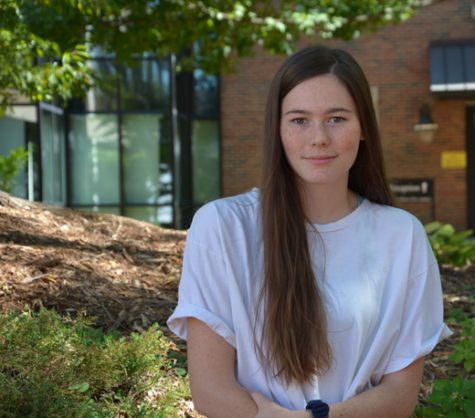 Mari Knudson, Graphics Editor / Aureus Asst. EIC
Mari Knudson is a senior member of the staff, a dedicated student athlete, and the Graphics Editor for The Rubicon this year. She is also Assistant EIC...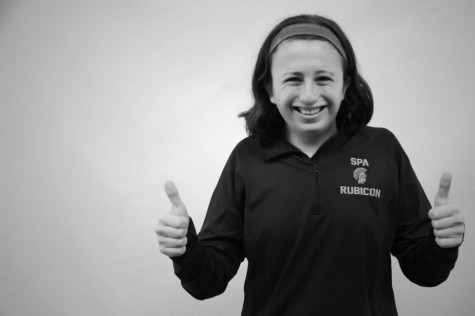 Catherine Braman, Online Editor-in-Chief
Catherine Braman is a Junior at St. Paul Academy and Summit School. Catherine served as Online EIC for first semester 2014 and was a co-Sports Editor...