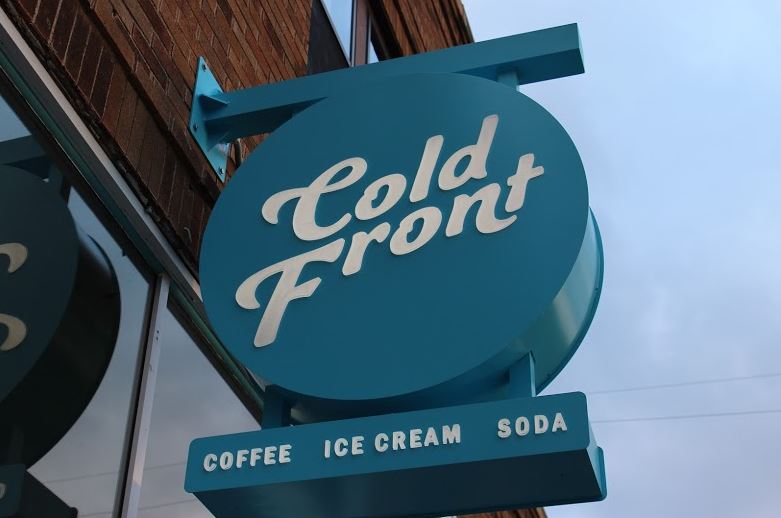 Kelby Wittenberg
Cold Front Ice Cream is a little shop for cold sweet treats nestled next to the familiar Nook. Walking in, the first noticeable feature is the expansive stainless steel counter, a staple of the traditional malt shop. Kids and adults alike will adore the counter that runs the length of the shop, as you can watch your delectable desserts come together in front of your eyes. It has a fair amount of flavors, the current tally totaling 16. These flavors are incredibly creative too, as they range from Kitty Kitty Bang Bang (raspberry cheesecake with oreo and chocolate chunks) to Fat Elvis (banana ice cream with peanut butter and chocolate chips).
Some flavors rotate seasonally too, and usually correspond to the season they're put in, like pumpkin for fall or peppermint for winter. All of their ice cream is purchased from Chocolate Shoppe Ice Cream, an independent manufacturer located in Madison, Wisconsin. Fat Elvis dazzles in Cold Front's lineup, modeling the King's favorite peanut butter banana sandwiches in an ice cream flavor. The mild sweetness of the banana mixed well with the peanut butter and the chocolate chips pleasantly interrupted the smooth texture. If just plain ice cream isn't your thing, they also serve malts and sundaes. The malts are made out of the ice cream of your choice, but the sundae toppings are what really stand out. Along with the standard chocolate chips and caramel, Cold Front also features interesting toppings like candied bacon and saltines. Better still is the selection of classic colas and house-made premium sodas. A handful of the notable sodas would be "Lemongrass Sass," "Chai Vanilla," "Carrot Orange," and what seems to be the most popular, "Pomegranate Ginger." If you want something to perk up your day, they have a multitude of coffees, combined with a bottomless coffee club.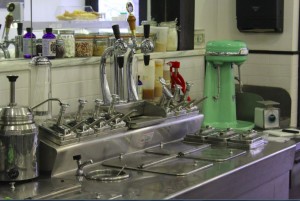 The Verdict: Definitely worth the trip. The classic malt shoppe adornments hark to times past while the creative ice cream flavors, inventive sodas, and sundaes set new standards for every frozen dairy shop.
5/5 Stars ☆☆☆☆☆
Cold Front
490 Hamline Ave S, St Paul, MN 55116
For more info, visit http://www.coldfrontmsp.com/