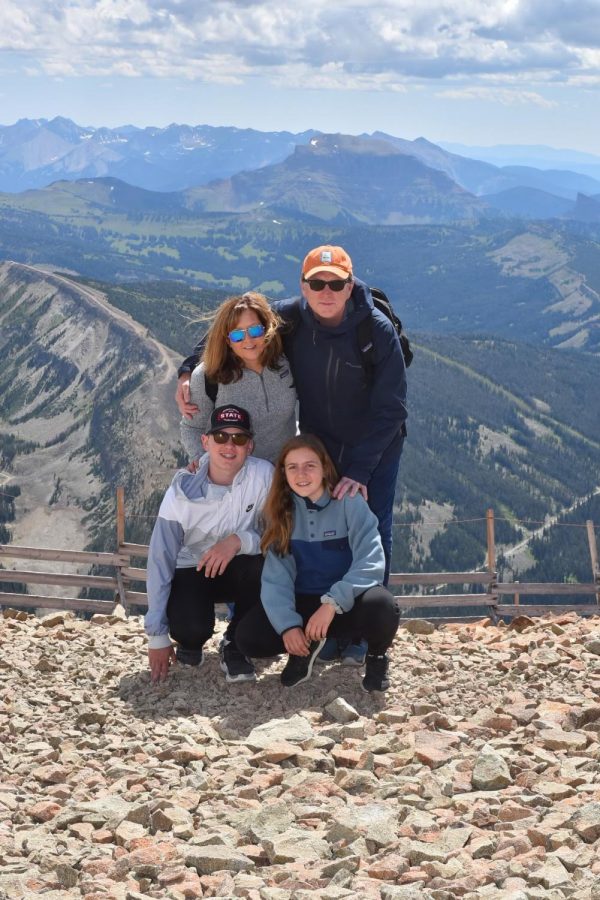 Charlotte Goings values family
There's no better time to have a good relationship with your family than during a pandemic, and 9th grader Charlotte Goings knows that for fact.
"It's always just been a natural thing… we've always been close. I always know that I can go home and just be myself," she said.
Goings is quiet on first impression (which she gets from her father) but she becomes more outgoing in certain environments (which she gets from her mother.) Hockey is bound to come up in a conversation with her, but her family will be mentioned even more. It's easy to see the value that Goings places on her family, even after only a few minutes.
Goings is new to SPA, so she's had to adjust to a new environment in the middle of the pandemic. She thinks the transition has gone well: "I went to Nativity [kindergarten] through 8th [grade], so I've been going to the same school my whole life with the same people, so it's definitely different," Goings said. "But [SPA is] nice. It's like a new experience… learning new things and meeting new people."
Goings has been playing hockey since she was three. But, since she hasn't been able to play due to pandemic-related shutdowns, she connected with her family more than ever. Goings lives with her mother, father, and brother who is a junior, not at SPA.
Goings said the family dynamic is fairly laid-back. "We all like to make fun of each other… we're all pretty funny," she said. "My mom's more outgoing… my dad's quieter and less outgoing, more thoughtful. My brother's like my mom… he's really outgoing and just kind of a fun person."
Goings believes she got the best of both worlds in terms of traits.
"Sometimes I'm more thoughtful and sometimes I'm more outgoing, so it just kind of depends. I feel like I've gotten a mix of both," Goings said.
The rest of Goings' family lives far away so she doesn't see them as much. Plus, the coronavirus has caused some disconnection between her immediate family and extended family.
"I kind of have a small extended family, and none of them live in Minnesota, so we see them more on holidays and stuff like that," Goings said. "It's definitely harder [to connect with them during a pandemic] but we don't normally see each other that often anyway, so it doesn't feel as different."
The immediate family has found a lot of fun things to do during the extended amount of time they've spent together: "We play a lot of games together like bridge, and we have dinner pretty much every night together. And we—me, my mom, and my dad—watch the news every night together," she said.
Time she's spent with family has taught her how to be a good person around others. "You learn the right way to interact with people and social skills, and stuff like that," she said. "You just learn to like people a lot."
Goings shows that having a natural, easy dynamic with family can help ease some of the crushing quarantine boredom.